Man, 85, dies trying to regain title of oldest person to climb Mount Everest
Published time: 6 May, 2017 19:09
Edited time: 8 May, 2017 07:38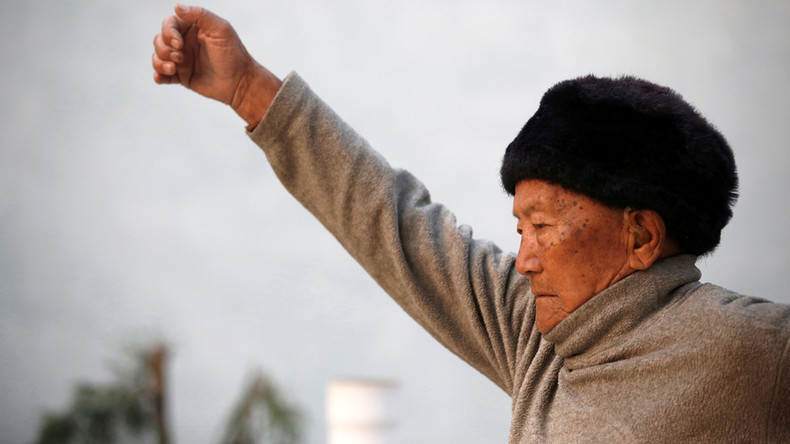 An 85-year-old Nepalese man has died while attempting to scale Mount Everest and reclaim the title of oldest person to climb the world's highest peak.
Min Bahadur Sherchan died of an apparent heart attack at Everest base camp Saturday evening. He is the second person in a week to lose their life while preparing to ascend the near 9,000-meter (30,000ft) peak.
World famous mountaineer Ueli Steck, known as the Swiss Machine was killed Sunday after falling to his death near Everest. He was hoping to accomplish the daring feat of climbing the world's highest mountain without the aid of oxygen.
READ MORE: World's most famous climber 'The Swiss Machine' falls to his death near Everest
Sherchan's death has been confirmed by Nepal's Department of Tourism but little details have emerged due to poor communication with the base camp.
The former British Gurkha soldier, who was said to be in good physical shape, set out for Everest last month with his team of six Sherpas.
Sherchan first mastered the summit of Everest in 2008 when he was 76 earning him a Guinness World Record as the oldest man to scale such heights.
However, his record was broken in 2013 by 80-year-old Japanese climber Yuichiro Miura.
Close in age, the two men reportedly had a long-term rivalry.
Sherchan's previous attempts to beat Miura in 2013 and 2015 were hampered by weather conditions and the devastating Nepal earthquakes.
When the adventurous octogenarian announced he was embarking on another attempt to reclaim his world record he made headlines across the globe.
Sherchan told DPA International in March that his goal was to inspire people, especially those of an older age.
"I want to climb Everest to set a record so that it will inspire people to dream big. This will instill a sense of pride among old people like me.
"My climb will demonstrate that age doesn't stop you from realising your goal."