LSD trips, Voldemort & pigeons: Twitter mocks French presidential debate
Published time: 4 May, 2017 14:09
Edited time: 5 May, 2017 12:42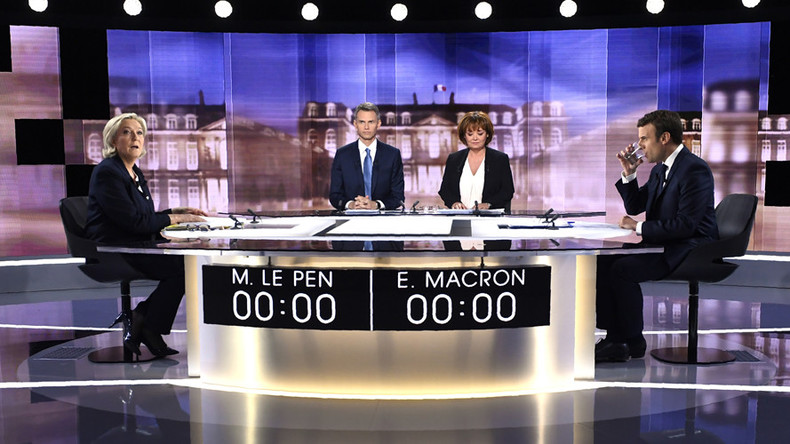 The latest round of the French presidential debates seems to have created a storm of social media creativity. From Marine Le Pen's 'LSD trip' to hints at Macron's marriage – enjoy the most heated and hilarious offerings from the Twitterati.
The Le Pen-related highlight of the evening, as seized on by many, was her sudden "trippy" experience.
One person said that she should have been "at a psychiatric ward" and "not at the debate." Another tweet wrote that Le Pen was somehow showing "a flying saucer," also noting Macron's look.
Jokes aimed at the right-wing candidate varied from simple to quite eloquent comparisons – not at all flattering, though.
"I'm not saying that they are the same person, I'm just saying that no one ever saw them at the same place at the same time," the caption to this reads.
One user posted a photo with the cartoon reading, "Arguing with a militant is like playing chess with a pigeon: regardless of your level, the pigeon will overturn all the pieces, sh*t the board, and swagger about as though it won."
The pigeon in the picture is clearly wearing a T-shirt sporting the sign "Marine Le Pen 2017," and shouting out slogans like "Europe is the worst," "We don't feel at home anymore," and "anti-white racism."
Even Alain Juppe, a former right-wing presidential candidate and one of France's best-known politicians, blasted Le Pen as "bad, incoherent, aggressive, sarcastic," and wondered, "how can one imagine such a person as the President of the Republic?"
Many also lambasted Le Pen for her alleged lack of research: tweeters thought that those folders on her table meant there wasn't much preparation going on.
There were, indeed, many, many folders on her table.
All in all, many supposed that Le Pen wouldn't make her father proud, tweeting a video of Jean-Marie supposedly "looking for his daughter's dignity."
Arguments against Macron involved his at times controversial rhetoric.
And something Le Pen said during the debate as well.
His age came up more than once, in fact.
There were numerous tweeters evoking what they viewed as the general pointlessness of the debate.
The Twitterstorm engulfed the presenters, too.