Macron tells Le Pen he 'won't submit to Putin' but admits Russia is needed to solve conflicts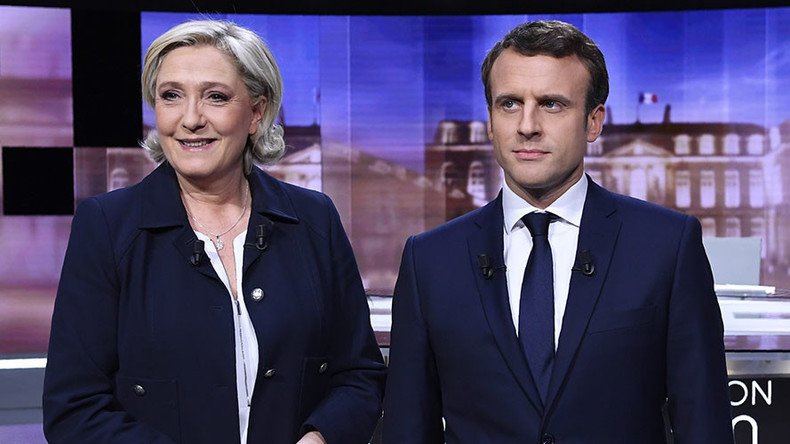 While French presidential candidates Emmanuel Macron and Marine Le Pen disagreed on mending relations with Russia's President Vladimir Putin in a heated debate Wednesday, Macron conceded that Moscow is vital in solving the Ukrainian and Syrian conflicts.
READ MORE: 'Choice between plague & cholera': 29% of French voters plan to abstain in presidential runoff
The Wednesday debate, livestreamed by France 24, presented National Front's Le Pen and former economic minister and a leader of centrist En Marche party Emmanuel Macron with the last opportunity to drum up voters ahead of a runoff Sunday as they were grilled by TF1 and France 2 hosts for over two hours.
Apart from weighing in on an array of domestic issues, including social security, the fight against a persistent terrorist threat, tax policy and other topics, the candidates also unveiled their visions of France's position in the world and its relations with the Trump's US and Moscow.
Le Pen, who in known as a proponent of a foreign policy that is free from Brussels or Washington's meddling, has said France's stance toward Russia should be based on the record of bilateral relations, which so far has been positive.
"There's no reason to wage a Cold War on Russia, but every reason to have relations with Russia – diplomatic, trade and strategic – because it's a great nation," Le Pen said, stressing that it is in the interests of France to "find a balance with Russia and the US."
She went to stress that it's only up to France to decide what kind of relationship it wants to have with Moscow.
"I don't care what Russia's relationships with the US look like," she said, adding that while she is "concerned" with the current dismal state of US-Russia relations, she hopes "they will be the best in the world."
Speaking to RT after a meeting with Vladimir Putin in March, Le Pen argued for lifting economic sanctions imposed on Russia that "actually have been forced upon us by the European Union" and said that France should not be constrained by other parties in improving relations with Moscow.
Macron, who is mooted by the pollsters to emerge as a winner of the vote on Sunday, also admitted that since Russia is involved in the conflicts in Syria and Ukraine, it is necessary to learn to talk to Moscow.
"Mr. Putin has put several conflicts on the table – the Ukrainian conflict – which we must deescalate, and in the conflict in Syria, Russia is part of the solution," Macron said, while promising that he would not cave in to the demands of the Russian president.
"I will not accept that my behavior be dictated by Mr. Putin. We will not submit to Russia or Mr. Putin's values," he stressed, accusing Le Pen for acting at the behest of the Russian president.
READ MORE: RT 'flattered' to be centerpiece of Macron's French presidential campaign
In her turn, Le Pen claimed a pro-EU Macron would adhere to whatever policy is championed by Germany as the leader of the EU.
"In any case, France will be led by a woman: Either me or Mrs. Merkel," Le Pen quipped, with Macron dismissing the jab as "ridiculous."
The former investment banker, who once was a part of the outgoing French government but seeks to portray himself as an independent politician, has previously accused the Russia media, including RT and Sputnik, of disseminating false information about him aiming to derail his presidential campaign.
Macron's aide Mounir Mahjoubi alleged that RT and Sputnik served as a "source" of such damaging information, and that they were working together "with all these fascist organizations or extreme right news organizations" to distort Macron's profile. During the first round of the presidential elections, Macron's team refused to provide accreditation for RT to cover its headquarters, again accusing RT and Sputnik of being promoters of fake news. Moscow, in its turn, called out Macron's team for violating freedom of speech, describing En Marche's ban "deliberate and bare-faced discrimination against Russian media by the presidential candidate."
According to a poll published by Elabe, Macron appeared as more convincing to 63 percent of voters following the debate, versus 34 percent who thought Le Pen got the upper hand. In the first round of the presidential elections, Macron gained 24.01 percent of the vote, versus 21.3 percent for Le Pen.
You can share this story on social media: