Golden Gamble: RT documentary discovers desperation & peril driving Philippines gold divers
Published time: 2 May, 2017 18:49
Edited time: 3 May, 2017 09:46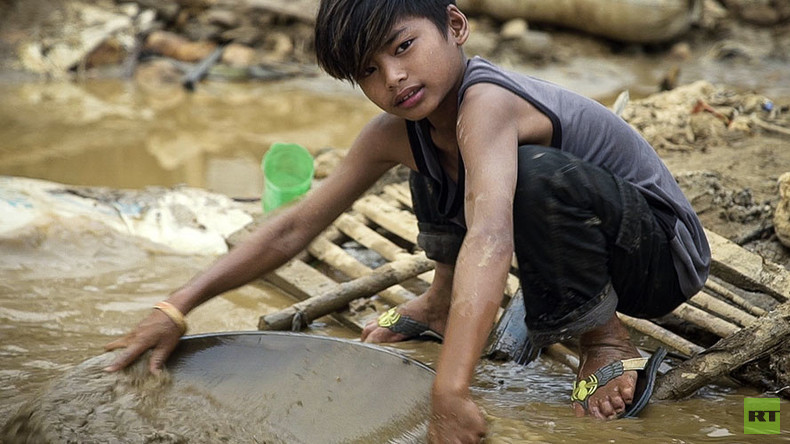 The "gold town" of Paracale sees its residents risking their lives every day as they dive down into murky, water-filled mine shafts in search of precious ore. RTD travelled to Paracale to discover the poverty, child labor and constant danger the prospectors face.
Although the Philippines government banned underwater gold mining in 2012, the dangerous business continues to thrive in the coastal province as locals struggle to make ends meet. To make a living, the miners dive some 10 meters (30 feet) to reach the bottom of a narrow mud-filled shaft, equipped with nothing but goggles and long thin tubes for breathing. Many of those who dive in the hope of finding gold are children.
As the gold miners descend into the pits, they risk never coming back. "While you're down the mine, you have one foot in the grave," goes a somber saying that the miners use.
The fear of being buried alive if a mine collapses is constant, but there are numerous other perils, too. The fumes of toxic mercury, used in illegal mining, are one, poisoning the air, the ground and the water. Muddy water in the shafts causes skin diseases. Despite the protests and demands for safety and other work opportunities, the authorities remain reluctant to take action.
With no other source of income available, the gold miners of Paracale carry on their exhausting, deadly job.
Watch the premiere of "Golden Gamble" on RTD.RT.COM on May 5.