Over 2.5mn people celebrate International Workers' Day across Russia (PHOTOS, VIDEO)
Published time: 1 May, 2017 12:11
Edited time: 1 May, 2017 20:04
Around 2.6 million people showed up for May Day rallies in 1,300 cities across Russia, the country's Interior Ministry reported. This year's celebrations are being held under the slogan "For decent work, wages and life."
Around 1.5 million people in Moscow alone took part in huge celebrations and festive activities.
Some 56,000 police officers were deployed to maintain order at event and concert venues.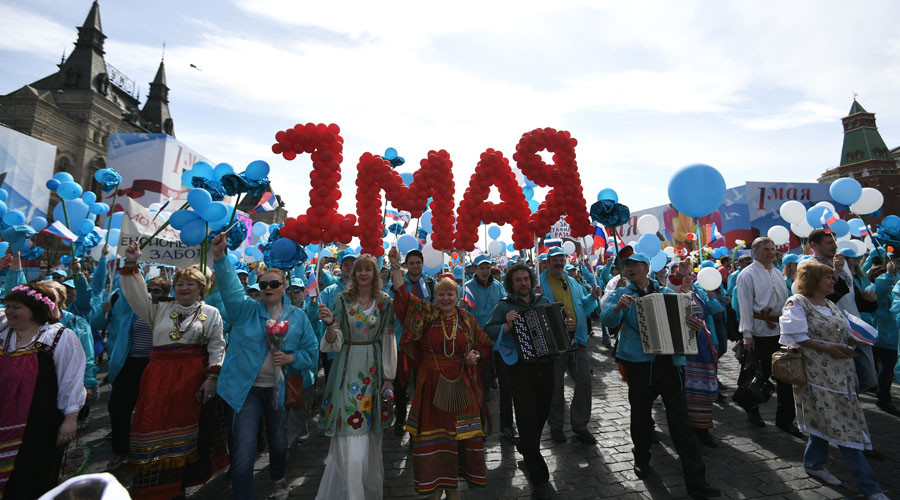 Moscow Mayor Sergey Sobyanin marched alongside the participants as they headed towards Red Square. Members of trade unions and labor collectives, veterans, students, and political activists carried Russian flags and colorful balloons and banners. More than 6,500 veteran workers and war veterans were invited to attend the main celebrations taking place in the heart of the capital by the Kremlin walls.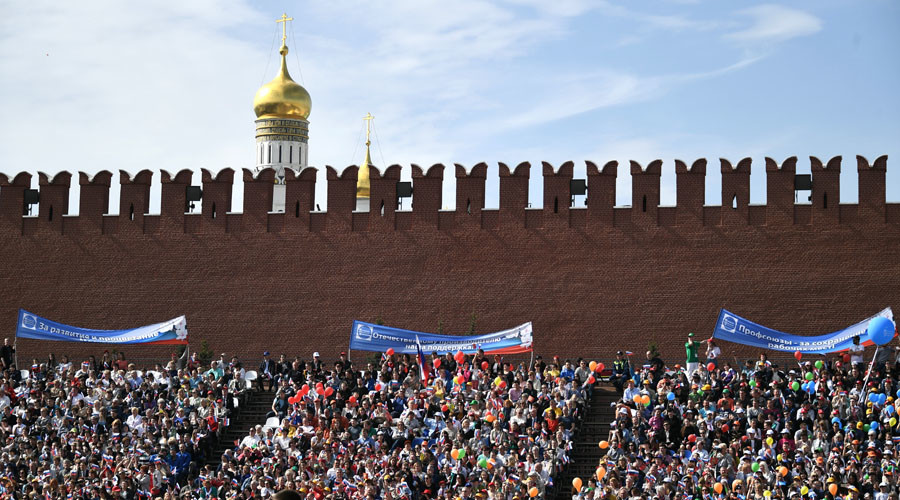 "Our most important demands are better salaries, and a transition to economic development based on improvement of the population's purchasing capability," the head of Russia's Federation of Independent trade unions, Mikhail Shmakov, told RIA, adding that more than two and a half million people are expected to mark Labor Day in cities across Russia.
The holiday marches first kicked off in Russia's Far East, with a total of some 508,000 people marching in the streets of the region's major cities. Yakutsk and Khabarovsk reportedly saw around 100,000 and 41,000 people. In Vladivostok, 20,000 people took to the streets, local authorities said.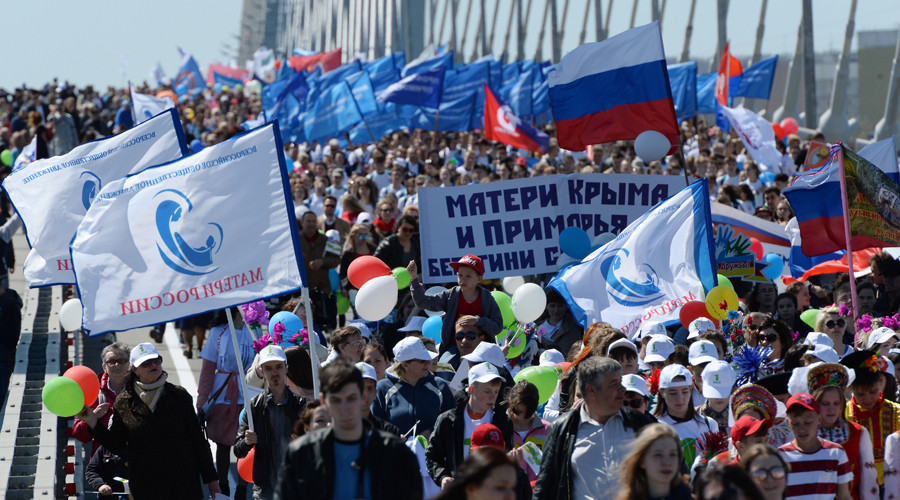 Massive crowds gathered in Siberia and the Urals and Volga regions, where more than half a million people were said to take part in the celebrations.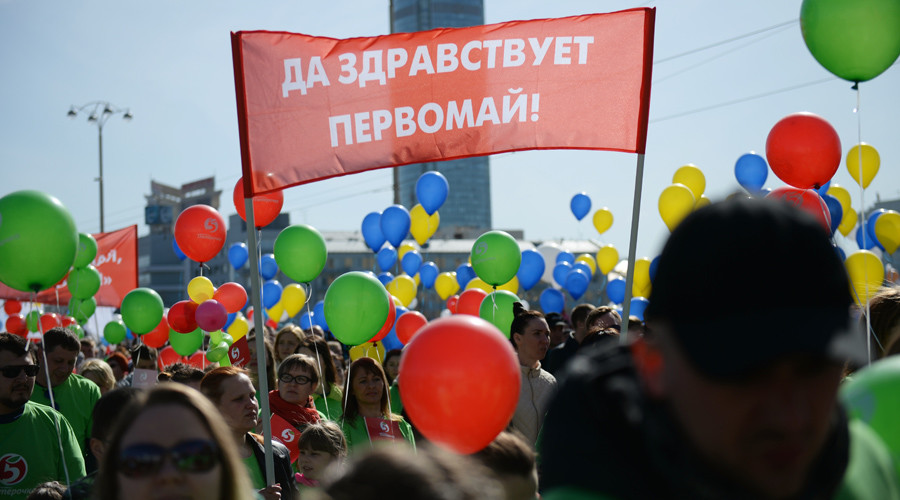 Around 100,000 people took to the streets in Russia's "northern capital," St. Petersburg, according to local police. Various political parties and groups marched through Nevsky prospekt together.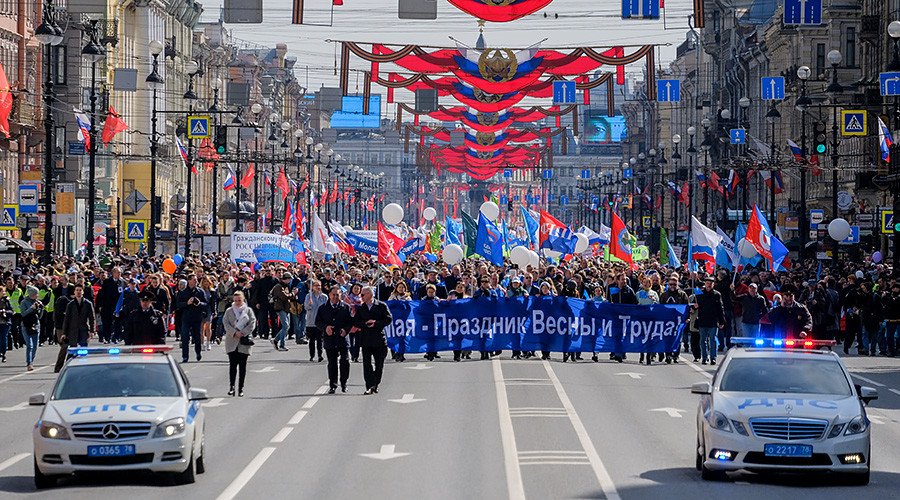 Opposition groups were joined by environmental activists, feminists and LGBT community members, who did not have permission for a separate march, the local Fontanka newspaper reported. Several LGBT activists were detained by police for violating order during mass events, after they fell to the ground protesting the alleged persecution of gays in Chechnya, Fontanka said.
Having marched through the central street, the huge crowd separated with some headed for the Palace Square and others for Marsovo Pole park. The group which headed to the park also protested against the transition of St. Isaac's cathedral to the Orthodox church. Police reported no incidents, saying the demonstration had been sanctioned by authorities.
The city of Kazan celebrated with traditional Tatar songs and dances and a huge Tatar pie called gubadiya in a bid to set a world record. Nearly 1,500 people have come to indulge in a piece of the giant pie.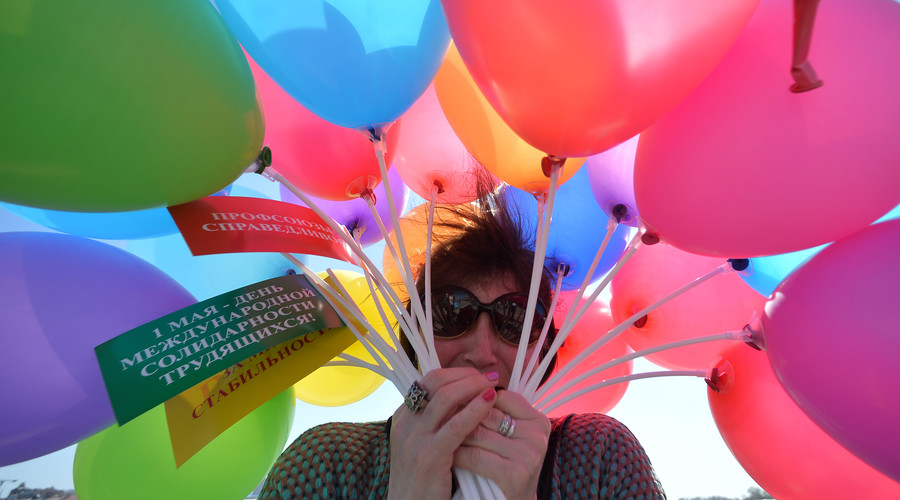 In a traditionally unorthodox May Day celebration, young citizens of Novosibirsk came out for a so-called 'monstration', which is seen as an alternative to conventional May Day marches. Around 3,000 students turned up wearing costumes while carrying handmade banners and placards bearing fun and absurd captions. Some read "All power to the owlets" or "Unicorns of the world, unite," playing on famous political slogans. Another which showed snowflakes read "Banned in Russia," its bearer understandably fed up with the recent weeks' uncharacteristically cold weather.
Despite temperatures plunging below zero, nearly 1,500 people in Salekhard in Russia's Arctic still came out to celebrate.