Fukushima authorities ask troops to help deal with forest fires near crippled nuclear power plant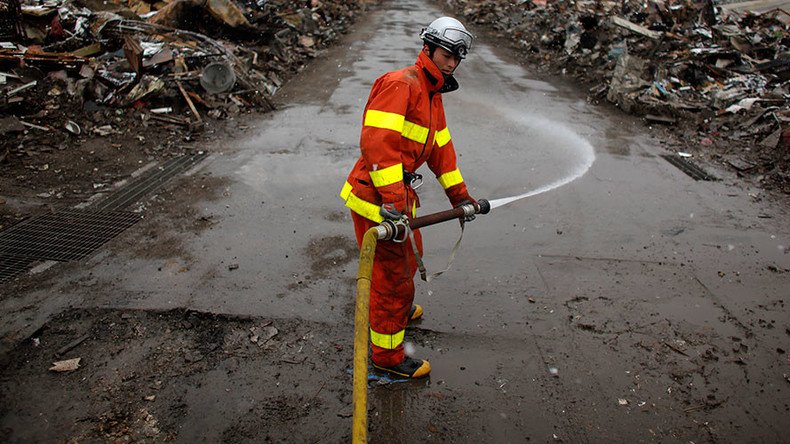 Fukushima prefecture has asked the Japanese Self-Defense Forces for help in handling forest fires that have swept areas near the crippled Fukushima power plant, local media report. Strong winds are hindering the firefighting efforts, however.
The forest fires broke out near the town of Namie, some seven kilometers from the disabled Fukushima Daiichi Nuclear Power Plant, on Saturday evening, Japanese NHK broadcaster reported.
Namie was evacuated following the 2011 tsunami and subsequent nuclear disaster in Fukushima.
READ MORE: 80% of voluntary Fukushima evacuees unwilling to return home – survey
The prefecture has deployed several helicopters to extinguish the fires, which are believed to have been caused by lightning. According to police, at least 10 hectares of forest have burned in the area.
There have been no reports of injuries or damage to buildings so far, Japanese media say.
With strong winds stoking the flames, the Fukushima Prefecture has requested help from the Self-Defense Forces, Japan's de-facto army, on Sunday.
Earlier in April, residents of Namie, as well as those from the village of Iitate and the town of Kawamata's Yamakiya neighborhood, totaling 22,100 people in all, were told they could return home – with the exception of those with houses in so-called no-go zones, where radiation levels are still too high, according to Japanese media.
So far, the homecoming has not been as successful as the government had hoped, as few residents have been eager to go back.
Results of a Fukushima Prefectural Government survey released on April 24 show that some 78.2 percent of the evacuated households have no intention of returning to their previous residences and plan to remain in the area they evacuated to.
You can share this story on social media: