Pyongyang slams Israel as 'disturber of peace armed with illegal nukes under US patronage'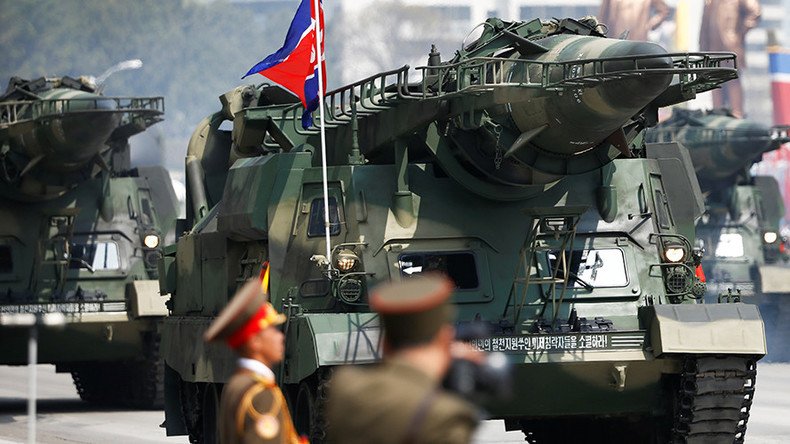 North Korea has accused Israel of being the "only illegal possessor" of nukes and threat to peace in the Middle East, and threatened Tel Aviv with a "thousand-fold punishment" after Israeli Defense Minister called Pyongyang's leadership a "crazy and radical group."
In an interview with Hebrew news site Walla this week, Avigdor Lieberman stated that North Korea's leader Kim Jong-un is a "madman" in charge of a "crazy and radical group" which is "undermining global stability."
Pyongyang "seems to have crossed the red line with its recent nuclear tests," the Israeli defense minister said, according to the Times of Israel.
In response, Pyongyang promised a "thousand-fold punishment to whoever dares hurt the dignity of its supreme leadership," calling Lieberman's "sordid and wicked" remarks a part of Israel's smear campaign to cover up its own crimes.
Firing back at the perceived hypocrisy, the North Korean Foreign Ministry said that, unlike Israel, which is a "disturber of peace" in its neighborhood, their country is full entitled to seek deterrence against "US aggression."
"Israel is the only illegal possessor of nukes in the Middle East under the patronage of the US. However, Israel vociferated about the nuclear deterrence of the DPRK, slandering it, whenever an opportunity presented itself," the Foreign Ministry spokesman said, as cited by state-run agency KCNA.
While Israel has never publicly confirmed or denied possessing nukes, it is universally believed to have dozens of warheads, and maintains ambiguous policy that it will not be the first to "introduce" them in the Middle East.
"The DPRK's access to nuclear weapons is the legitimate exercise of its righteous right for self-defense to cope with the US provocative moves for aggression and the DPRK's nuclear force is the treasured sword of justice firmly defending peace on the Korean peninsula and in the region," the North Korean statement added.
Pyongyang went on to call Israel a "culprit of crimes against humanity" and an "occupier" which seeks to dominate the region and oppress Palestinians.
Lieberman's remarks also sparked criticism at home, with some Israeli politicians noting that their country has enough enemies to create even more with such reckless statements.
"We have enough enemies. Let's focus on them," MP Shelly Yachimovich of the Zionist Union said on Twitter.
"The minister of talk is chattering irresponsibly about North Korea. And there is no prime minister to rein in the babbling and posturing ministers," former defense minister Moshe Ya'alon wrote on Twitter, Times of Israel reports.
Already heightened tensions on the Korean Peninsula escalated further on Saturday after the North conducted yet another failed test of its ballistic rocket technology. The test was conducted as US kicked off joint naval exercises with South Korea just after the US aircraft carrier group led by the USS Carl Vinson entered the Sea of Japan.
For some time now, it has been speculated that Pyongyang is also getting ready to conduct its sixth nuclear test. Speaking about North Korea on Saturday, Trump noted that neither China nor the US would welcome a further North Korean nuclear test.
"I would not be happy," Trump said in a CBS interview for Sunday's Face the Nation. When asked if the sixth Korean nuclear test would prompt American military action, Trump responded: "I don't know. I mean, we'll see."
You can share this story on social media: