Moscow residents plant trees during 'subbotnik' spring cleaning (VIDEO)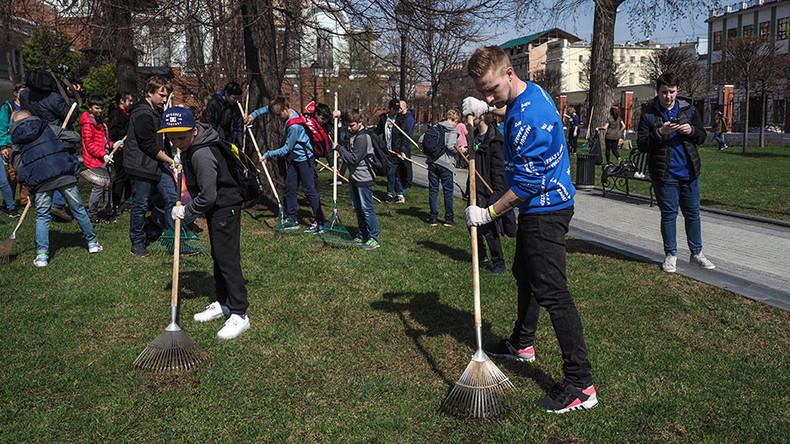 Millions of people across Russia used their day off on Saturday to help clean up their cities after the winter in a long-time tradition known as 'subbotnik.' In the capital, Moscow's mayor joined residents in planting trees.
Moscow's mayor, Sergey Sobyanin, said that around 1.5 million people in Russia's capital participated in the 'subbotnik,' which comes from Russian word for 'Saturday.'
"Muscovites are cleaning up the parks, public gardens, yards, and streets. So, I think after the 'subbotnik' the city will be even more beautiful and comfortable," Sobyanin said, as cited by Interfax.
The mayor, who himself helped tidy up a park in southern Moscow and planted an apple tree, thanked everybody for their support.
He also announced the launch of fountain season, when over 600 waterworks across that capital will start up simultaneously on Saturday.
Scores of people planted trees at the 'Forest of Victory' in Krasny Village near Istra in Moscow Region as part of the 'Subbotnik'.
Volunteers planted hundreds of spruce, pine, and oak seedlings in a 1,550-acre area ahead of the 72nd Victory Day on May 9.
"Together with friends and organizations, people gathered here to unite and plant a forest to contribute to the development of forestry," one of the participants told RT's Ruptly video agency.
People also took to the streets to paint buildings, clean up public spaces, and help in other ways all across the country.
Some 60,000 volunteers joined the 'Subbotnik' in the Ural's Yekaterinburg, as well as 10,000 in Siberia's Krasnoyarsk. The cities of Ufa, Magadan, Pezna, and Chita, as well as many others, also took part.