'Wishful thinking': Kremlin dismisses reports of Putin-Trump meeting in May
Published time: 27 Apr, 2017 17:31
Edited time: 28 Apr, 2017 13:09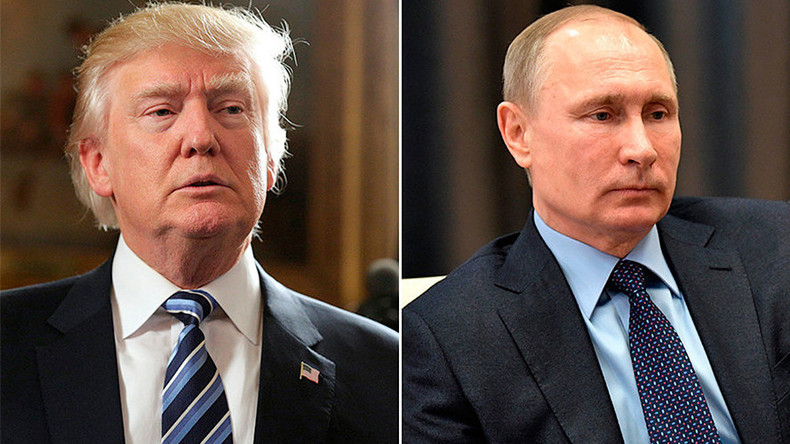 No preparations are being made for a meeting between Vladimir Putin and Donald Trump, the Kremlin spokesman said, commenting on media reports that the Russian and US presidents would meet in May.
"This isn't the case," Russian presidential press secretary Dmitry Peskov said when addressed on the issue by journalists on Thursday.
He called reports on the planned meeting between Putin and Trump "wishful thinking" on the part of the authors.
On Wednesday, Russia's Kommersant newspaper cited unnamed Russian and American officials, who reportedly said that the leaders would meet in late May in an EU member country.
Trump is scheduled to arrive in Europe on May 25 to take part in the NATO summit in Brussels, Belgium, and the G7 summit in Sicily, Italy.
A meeting between Putin and Trump has been rumored since the 45th US president's inauguration on January 20.
However, the Russian and US leaders have so far only talked to each other by phone.
Earlier in April, US Secretary of State Rex Tillerson made his first official visit to Moscow, meeting both Putin and Foreign Minister Sergey Lavrov.

During the visit, it was announced that a joint Russian-US expert group was being created, aimed at attempting to mend ties between Moscow and Washington, which slipped to almost Cold War-like levels under the Obama administration.
Earlier, Putin said that Trump had failed to make good on his campaign promises to mend relations with Russia.
"I would say the level of trust [between Russia and the US] is at a workable level, especially in the military dimension, but it hasn't improved. On the contrary, it has degraded," the Russian president said, shortly after the US bombed an airbase in Syria in response to an alleged chemical attack in Idlib on April 4, blamed by Washington on the government of President Bashar Assad.
Trump's statements on the need for better relations with Moscow led to accusations that he had secretly colluded with the Russian authorities to win the US presidential election last year.
READ MORE: Putin: Trust between US & Russia degrading under Trump
The claims were denied by both Russia and the Trump team. However, the US president's administration is currently under a congressional investigation over alleged ties with Russia.