Remains of 19th century Russian officer unearthed in Turkey (VIDEO)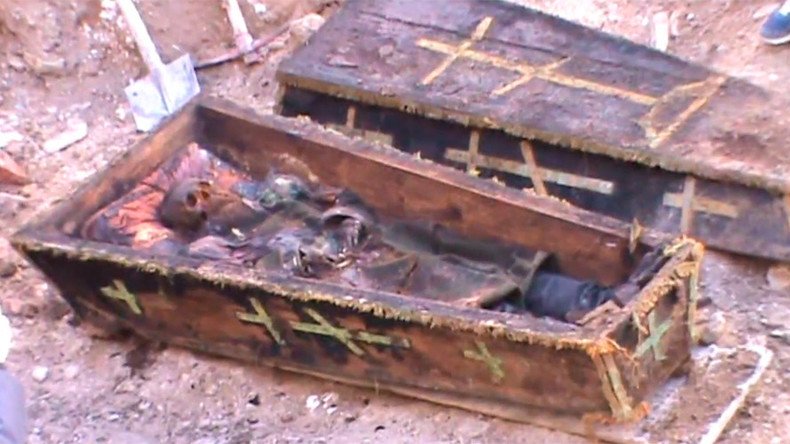 Construction workers in northeastern Turkey have unearthed a remarkably well-preserved skeleton, allegedly belonging to a 19th century Russian soldier who died fighting during the 1877-78 Russo-Turkish war.
The corpse which still has most of the garments intact, was recovered inside a decorated wooden coffin bearing the Russian Orthodox cross in the Karagol neighborhood of Ardahan province.
The unusual discovery was made on Tuesday evening and reported to police by locals carrying out building works. The body which laid buried for over 150 years is believed to belong to an army general who fought to capture that part of the Ottoman territory which the Russian troops secured in May 1877.
Mehmet Solaklioglu, an archaeologist at the site, noted that the Russian Tsar's army was stationed in the area during the Russo-Turkish war.
"According to the investigations we have done, this coffin belongs to a Russian soldier. We think that it could be dated at the Russians' arrival to this area, which is around 1878. There is nothing valuable in the coffin. The soldier was buried according to Christian ritual. There was only his body and his clothes [in the coffin]. Nothing else," the archeologist said.
"There are three stars and the number 20 is written on his uniform. Probably this figure is his service number," Necmettin Alp, the director of Kars Museum, told Anadolu Agency.
The Russo-Turkish War of 1877–78 was an armed conflict fought over a territory in the Balkans and in the Caucasus, between the Ottoman Empire and the Eastern Orthodox Christian coalition led by the Russian Empire.
You can share this story on social media: