'Wedding dress doesn't cover the rape': Activists campaign against Lebanese 'rape law'
Published time: 23 Apr, 2017 20:33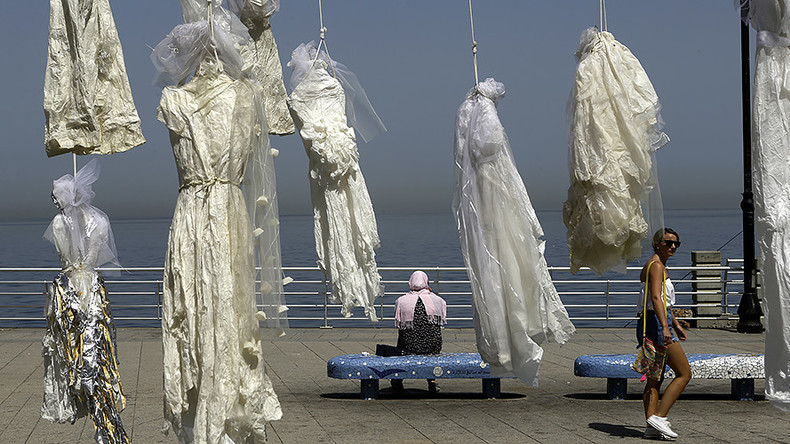 Activists set up a symbolic exhibition on Beirut's seaside promenade to call on the country's MPs to abolish a controversial law that allows rapists to avoid prosecution by marrying their victim.
Thirty-one wedding dresses made of wrapping paper and lace were hung from nooses, swaying between the palm trees on the capital's sea front.
"There are 31 days in a month and every single day a woman may be raped and forced to marry her rapist," Alia Awada, advocacy manager from the Lebanese non-governmental organization ABAAD MENA, told AFP.
The campaign is supported by Lebanese-born French artist Mireille Honein, who designed the dresses.
"And I hung them up, because this type of law simply robs women of their essence, leaves them without an identity and suspends them in a life that does not suit them and is shameful for those imposing it on them," the artist said, as quoted by Al Jazeera.
Dubbed the 'rape law', Article 522 of Lebanon's Penal Code effectively suspends prosecution or execution of a penalty if a rapist marries his victim. Apart from rape, the article also extends to kidnapping and rape of minors. A proposal to eliminate the article was brought up last year and lawmakers are expected to vote on it during the upcoming Parliament session on May, 15.
"We are trying as much as we can to shed light on this issue and tell parliament that the time has come for them to vote on canceling Article 522," Alia Awada said.
The activists called on citizens taking their Saturday stroll to sign a petition aimed at pressuring the MPs to prioritize the article's repeal.
On visiting the installation, Minister for Women's Affairs Jean Oghassabian referred to the 'rape law' as something "from the stone age."
"How is it reasonable for a woman to be raped and then sold into prison? This is totally unacceptable. Humanity does not accept that," he went on.
People shared their pictures of the eerie-looking dresses on social media platforms, using the #Undress522 hashtag.
ABAAD MENA previously released a video in order to raise awareness about the law. It depicts a woman whose wounds and bruises are covered with white bandages until she ends up dressed as a bride, ending with the caption "A wedding dress doesn't cover the rape."