More than 50 feared dead in Taliban attack on Afghan forces base – US military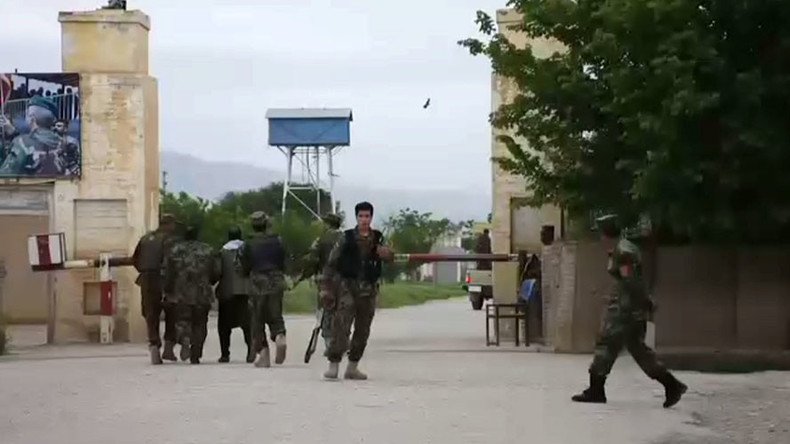 Dozens have been killed in an ongoing attack on an Afghan military base, a US military official said, adding that the death toll may be over 50, Reuters reports.
"We're talking probably more than 50 casualties," said Colonel John Thomas, a spokesman for the U.S. military's Central Command, as quoted by Reuters.
"There is a mosque and a dining facility on the base that seemed to, at this point from our reports, be the subject of significant attack from enemy forces."
Militants wearing army uniforms stormed a military compound in Afghanistan's northern Balkh province during Friday prayers, Daulat Waziri, a spokesman for the Afghanistan Ministry of Defense, said, as reported by AP.
The militants entered the building with a military vehicle and began shooting at the soldiers as they prayed in the compound's mosque, he added.
The US Central Command (CENTCOM) has condemned the attack in a statement.
The spokesman also said that five assailants were killed on the spot, including one wearing a suicide vest, while one of the attackers was captured alive.
The Taliban has claimed responsibility for the attack in a statement.
General Mohmand Katawazi, the commander of the Afghan Army's 209 Corps, said that the military managed to "eliminate" all attackers, adding that the operation is over. Shaheen camp - the area attacked - was manned by soldiers of the 209 Corps.
The death toll has reportedly risen to 66, the Afghan Pajhwok news agency said, citing its sources, and adding that 73 soldiers have been injured.
US-led forces entered Afghanistan to remove Taliban control more than 15 years ago, following the attacks of September 11, 2001. The US has more than 8,000 soldiers in the country, training local forces and conducting counterterrorism operations.
Some 6,400 NATO soldiers remain in Afghanistan, following the large-scale NATO troop reduction there in 2014. US Army General John Nicholson recently described the situation in Afghanistan as a "stalemate" as he spoke to the US Senate Armed Services Committee.
Lately, the US has concentrated on fighting Islamic State (IS, formerly ISIS/ISIL) terrorists in eastern Afghanistan, while also supporting Afghan National Security Forces against the Taliban.
Last week, the US dropped an 11-ton "mother of all bombs" in the eastern Nangarhar province of Afghanistan, killing 94 IS terrorists, according to the latest estimates. A figure of 36 was earlier reported.
Taliban fighters overran the Sangin district of Helmand province in late March. They also killed and injured at least 15 people in coordinated attacks on a police station and an intelligence service office in Kabul earlier the same month.
You can share this story on social media: