Blue on blue: Police unions teargassed as they storm Brazilian Congress over looming pension reform
Published time: 19 Apr, 2017 11:30
Edited time: 19 Apr, 2017 12:53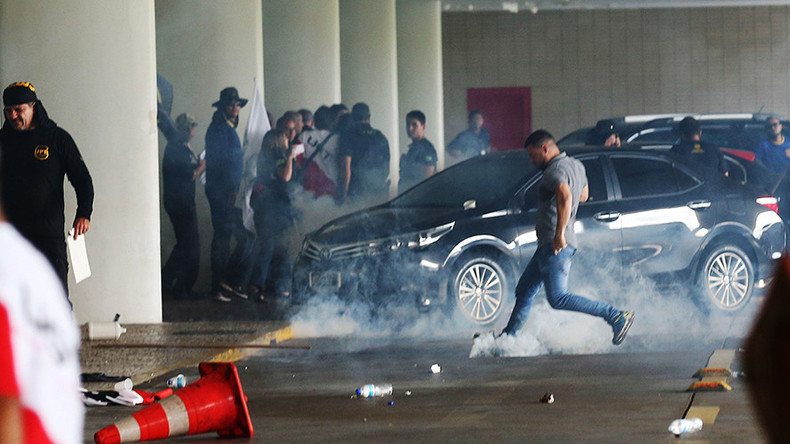 Members of police trade unions clashed with congressional security officials in the Brazilian capital as they attempted to break into the parliament building to protest against pension reforms. The building's security personnel deployed pepper spray and tear gas.
The incident took place on Tuesday, when hundreds of members of police unions gathered in front of the congressional building in the Brazilian capital, Brasilia, Reuters reported. The demonstrators then clashed with police guarding Brazil's Chamber of Deputies. Police deployed tear gas and pepper spray against the protesters, local media reported.
"There was a demonstration with about 3,000 federal police officers. When they filed a petition asking for the removal of deputy Arthur Maia, who is processing the [pension] reform, about 100 police tried to enter the chamber and the legislative police acted to contain them and deployed gas bombs," an adviser from Union de Policías de Brazil (UPB) told AFP.
According to the UPB, five police officers participating in the protest were arrested, but were later released.
The lower Chamber of Deputies released a statement, saying that some 500 protesters, mainly police officers, attempted to storm the building but were repelled, as cited by Reuters. No injuries were reported, the statement added.
The unions were demonstrating against pension reforms proposed by President Michel Temer's government that could reduce their retirement benefits.
The reforms propose a minimum retirement age of 65. Currently public sector employees work on average to the age of 54 and then receive generous retirement benefits. Brazil still doesn't have a minimum retirement age.
The debates on the controversial legislation will start in the lower Chamber of Deputies at committee level on Wednesday. In the meantime, Globo.com news portal released a photo of the document which will reportedly be presented by Maia on Wednesday.
The bill doesn't value the risk involved in police work, said 27 federal police unions which called for the protests, as cited by Reuters.