Royal Navy 'detects' & 'marks' Russian warships in English Channel (VIDEO)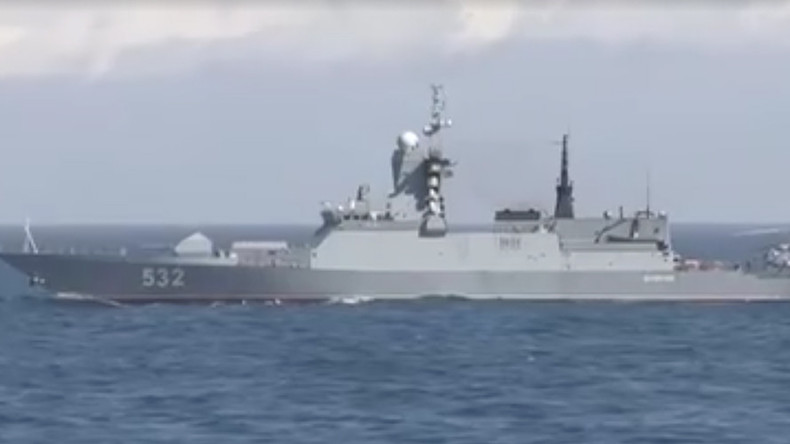 British Type 23 frigate HMS Sutherland "located" and escorted two Russian corvettes, 'Soobrazitelny' and 'Boiky', while the vessels were passing through English Channel during a naval exercise.
The two Russian ships were "spotted" by the Royal Navy on Friday, and subsequently escorted while passing through the English Channel in international waters.
The corvettes (frigates in NATO classification), accompanied by a fuel tanker and an ocean-going tug, were performing naval exercises, according to Russian Navy officials.
While the voyage and its purpose were not kept secret by Russia, the British Ministry of Defence boasted of its "vigilance" in protecting the island nation, "using state-of-the-art radars to track the course and speed of the ships as they pass close to the UK."
"HMS Sutherland is carefully marking these Russian ships as they pass close to UK waters. The Royal Navy maintains a vigilant watch and is always ready to keep Britain safe," Defence Secretary Sir Michael Fallon said in a statement.
Russian naval activities in the North Sea and the English Channel tend to attract excessive attention from NATO countries and the Western media.
The Royal Navy on several occasions boasted successful "intercepts" of Russian ships and submarines sailing in international waters on an announced route and without any attempts to hide.
The biggest stir so far was caused by the last year mission of the aircraft carrier group 'Admiral Kuznetsov', which provoked a nervous reaction among the European states and fueled hysteria in the media.
Several NATO ships then escorted the Russian naval group on its route. While some media outlets branded the cruise "the biggest demonstration of Russian military power" in recent years, others mocked the black smoke produced by the 'Admiral Kuznetsov'.
Moscow said that the fleet's route was never meant to be a secret or a surprise.
The group successfully concluded its mission in the Mediterranean Sea and returned to Russia in January, effectively receiving similar attention on its return journey.