Iran shows off its elusive new fighter jet – but not in flight (VIDEO, PHOTOS)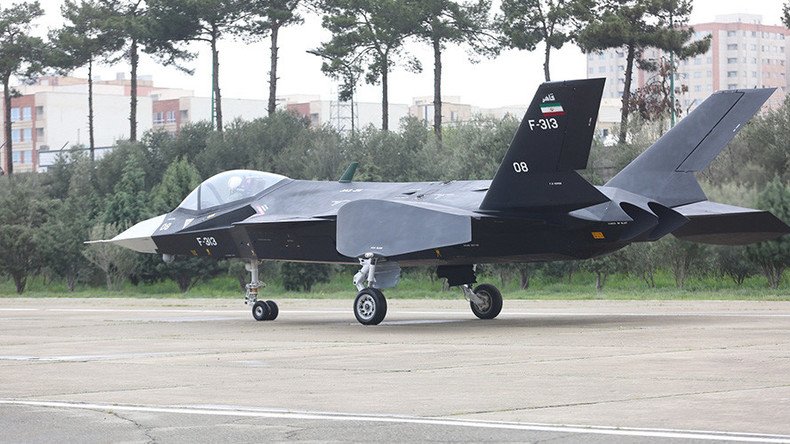 Brand new military vehicles have been showcased in Iran, including the infamous Qaher F-313 jet, which many critics previously believed to be a hoax. Iranian President Rouhani said the country did not need "permission" to strengthen its armed forces.
The taxi test of the new Qaher F-313 stealth fighter jet was performed during an exhibition at the Iranian Helicopter Support and Renewal Company (IHSRC) in Tehran on Saturday. Footage of the prototype taxiing along the runway was released by Iranian media.
It does not, however, take off.
Another domestically produced plane, the training jet Kowsar, was also unveiled at the event.
Iranian President Hassan Rouhani attended the event and praised the efforts of the country's engineers and scientists who "have done something great for the defence ministry."
READ MORE:Iran test-fires Nasr sea-launched cruise missile during drills (VIDEO)
"We don't ask for permission from others to reinforce our armed forces, don't ask for permission to manufacture our missiles, our jets," Rouhani stated.
The production of the Qaher F-313 and Kowsar jets is "a prelude to the production of heavy aircraft," Iranian Defense Minister Brigadier General Hossein Dehqan told the media, announcing plans for domestic production of heavy jet engines.
The Qaher F-313 stealth fighter jet was unveiled in February 2013, sparking a heated debate among various military experts, as many critics claimed the plane to be a "hoax" and a "fiberglass model," citing the small dimensions of the plane, unconventional wing shape, small air intakes, and no visible engine nozzles.
READ MORE: Iran rolls out bold design for homemade fighter jets (VIDEO)
"It's not a plane, because that's not how a real plane looks," the Times of Israel quoted aeronautics expert Tal Inbar as saying back in 2013. "Iran doesn't have the ability to build planes. Plain and simple."
Iran, however, stated that the plane was developed through using simulation software and flying scale jet and propeller models. A video showing the models in flight was released by the developers later. While the engineers clearly stated that the video features scale models, the clip only fuelled the suspicions of the plane being a "hoax."
Last month, Iranian Defense Minister announced that the Qaher-313 jet was ready for flight testing. It remained unclear, however, when the flight testing would take place or when its results would be available for the public.
You can share this story on social media: