Riot police pepper spray Antifa demonstration in Cologne, brawls erupt (PHOTOS, VIDEO)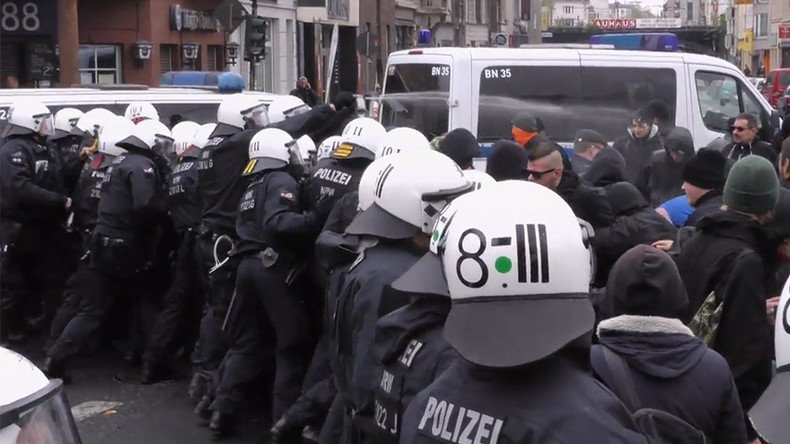 German police used pepper spray to disperse a crowd that took part in an Antifascist Action (Antifa) protest, while a simultaneous Neo-Nazi demonstration reportedly passed through Cologne.
Two rival protests took place in Cologne on Saturday, April, 15. One was organized by the right movement Cologne for German Socialism and the other by the Antifa union Cologne North, the German RP-Online news outlet reported.
Antifa is a a far-left, anti-fascist network operating in a number of European countries, including Germany. It stands on a platform against sexism, racism, and classism and aims to "smash fascism in all its forms."
Some 900 police officers accompanied the two demonstrations through the city center.
Some 200-300 Antifa activists marched while only ten people showed up for the Cologne for German Socialism rally, according to Kolner Stadt-Anzeiger.
Both rallies initially went off somewhat peacefully, not counting some instances when protesters threw bottles at law enforcement officers.
People seen on a Ruptly video were carrying flags and banners with opposing views. The right-wing crowd's placards read "Cologne will stay German," while the Antifa protesters' messages were, "No tolerance for intolerance," and "Cologne will stay mixed."
READ MORE: Cologne authorities could have prevented New Year's Eve sexual assaults on women – media
The two rally's set off from different city points but when the two groups finally met at around 2:30pm local time, a firecracker was hurled at the Neo-Nazi crowd, prompting police to intervene.
Police used pepper spray and detained a number of Antifa demonstrators. The video also shows intermittent small skirmishes between police and protesters.
"Cologne has a reputation of being a rapist town because of the migrant violence and bad behavior. Today it was a concern to demonstrate against leftists intolerance and it was a success in my opinion," a Cologne for German Socialism supporter said.
Cologne has become notorious after mass sexual assaults on women on New Year's Eve in 2016, when around 2,000 men harassed, robbed, and assaulted females. Over 1,200 criminal charges were brought following those events.
You can share this story on social media: