Moment after Syrian bus convoy hit by blast captured on video (GRAPHIC)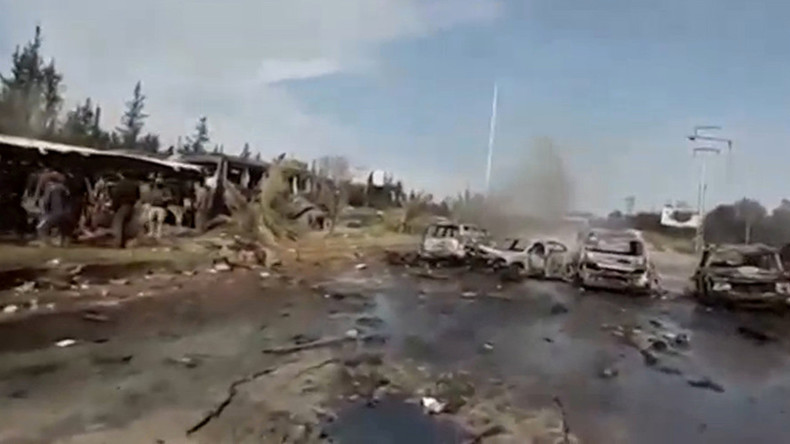 A video showing the immediate aftermath of the horrifying bomb attack on a Syrian convoy of buses carrying hundreds of people, including many children, has emerged online.
The video starts with images of a smoke-covered area with damaged vehicles covered in dirt seen on and off the road. Panicked people are seen running in different directions while screaming can be heard in the background.
The person filming the footage then approached what looks like the epicenter of the blast, with buses and more damaged cars seen in the video.
Very graphic images show bodies lying on the ground.
The person with the camera then filmed the scene from a further distance with more buses and a burning car seen in the footage.
The bus convoy transporting people from two mostly Shiite towns into government-controlled Aleppo was attacked on Saturday afternoon on the outskirts of the Syrian city.
While the convoy was waiting to enter the city, a blast occurred, reportedly caused by a suicide bomber detonating a car bomb.
Dozens of people were killed with scores of others injured in the attack. "Many women and children" inside the buses were killed, according to an eyewitness who filmed more very graphic video at the scene.
The bus convoy was transporting up to 5,000 people evacuated in a deal between warring parties. The buses were waiting to bring residents who were evacuated from rebel-held territory into the government-controlled city.