Trump's 'mother of all bombs' kills 36 suspected ISIS militants – Afghanistan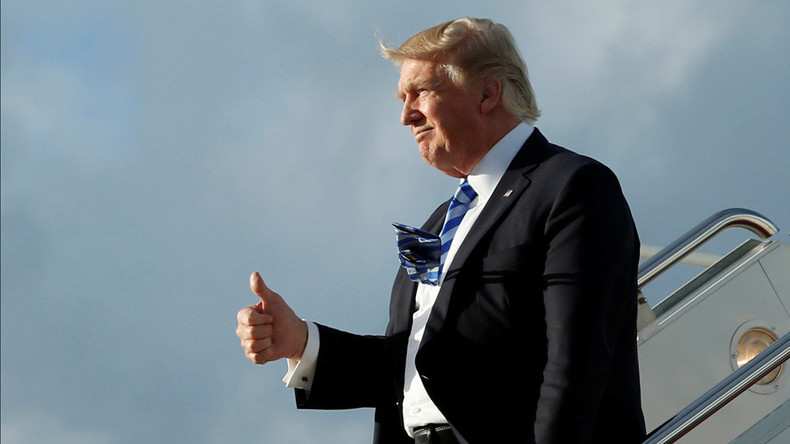 In President Trump's latest military move since striking Syria, the US' most powerful conventional bomb was dropped on a suspected Islamic State hideout in Afghanistan. The GBU-43/B killed up to 36 presumed terrorists, the Afghan Defense Ministry said.
The 10-ton bomb, dubbed 'mother of all bombs', was dropped from a MC-130 aircraft in the Achin district of Afghanistan's eastern Nangarhar province, which borders Pakistan. According to the Pentagon, it targeted a network of caves and tunnels where Islamic State (IS, Daesh, formerly ISIS/ISIL) fighters were hiding.
"No civilian has been hurt and only the base, which Daesh used to launch attacks in other parts of the province, was destroyed," Dawlat Waziri, a spokesman for the Afghan ministry, said.
The Afghan report could not be independently verified, Reuters noted.
IS took to the internet on Friday, denying it had suffered any casualties from the giant bomb dropped by the Americans, AFP reported.
The GBU-43/B Massive Ordinance Air Blast bomb (MOAB) was deployed in combat for the first time ever as US President Donald Trump dispatches his first high-level delegation to Kabul. The visit comes amid uncertainty over the presence of some 9,000 US troops stationed in Afghanistan to guard American facilities and train local troops.
The delegation will be headed by National Security Adviser H.R. McMaster, but the exact timing of its arrival is yet to be confirmed by US or Afghan officials. The Americans are going to "find out how we can make progress alongside our Afghan partners and NATO allies," Trump said on Wednesday.
Afghan security forces have been struggling to fend off militant groups since US troops withdrew from combat operations on the ground. The Taliban controls many of Afghanistan's rural areas and has been targeting some larger cities, which are better guarded by Kabul troops.
The Afghan government said the oversized bomb was dropped as part of a joint operation being conducted by its army and international troops.
Former Afghan President Hamid Karzai condemned the use of the MOAB on his country's soil.
"This is not the war on terror, but the inhuman and most brutal misuse of our country as a testing ground for new and dangerous weapons," he said in a tweet.
Earlier this month, President Trump ordered the launch of a barrage of 59 Tomahawk cruise missiles that targeted a Syrian airbase in response to what he called a chemical weapons attack, which he claimed had been carried out by the Syrian army. He also ordered a US Navy aircraft carrier group to the Korean Peninsula in a surprise diversion apparently threatening military action against Pyongyang.
You can share this story on social media: