Japan scrambled record 1,168 jets in last year over increased China activity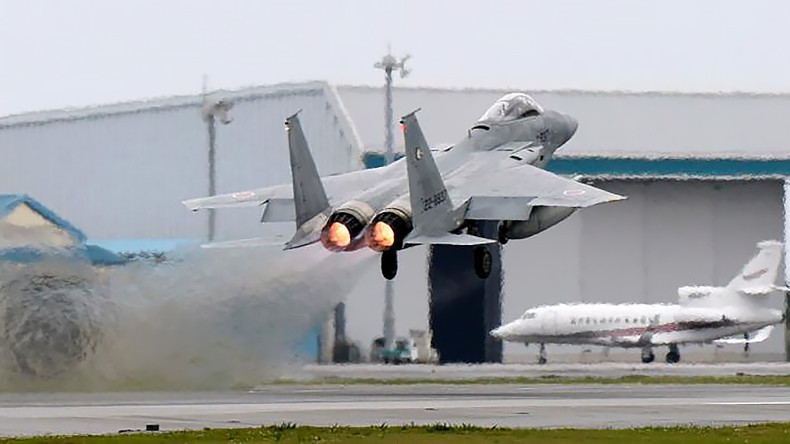 Japan has scrambled a record number of jets over the course of the last 12 months – 295 more than the previous year – mainly due to increased activity of Chinese military aircraft, a top Japanese commander said.
"Recently, we have seen Chinese military aircraft operating further south and that is bringing them closer to the main Okinawa island and other parts of the island chain," Admiral Katsutoshi Kawano, Japan's chief of staff, said at a briefing in Tokyo on Thursday.
According to the Japanese Self-Defense Forces, jets were scrambled on 1,168 occasions in the fiscal year to March 31, with 73 percent of the flights carried out against aircraft known or believed to be Chinese.
Encounters with Russian aircraft, which were mainly represented by long-range bombers flying near Japanese airspace, increased by 4.5 percent, reaching 301 scrambles, it added.
The total number of missions rose by 295 compared to last year, when Japanese planes were ordered to the skies 873 times.
It's also more than the record year of 1984, when 944 Japanese jets were scrambled to respond mostly to Soviet aviation.

"Activities of Chinese jets are on the rise in terms of their frequency, area and duration," Kawano said, as cited by AFP.
"Considering the modernizing trend of the Chinese military, we expect this to continue," the 62-year-old commander added.
Tokyo is concerned that increased Chinese Air Force activities are aimed at probing its air defenses as part of Beijing's push to boost its military influence in the region.
Japan and China are in dispute over uninhabited islands in the East China Sea, which provide rich fishing grounds.
Tokyo has administrative control of the Senkaku islands, with Beijing saying that the islets, which it calls the Diaoyus, have long been part of Chinese territory.
READ MORE: Japan commissions new $1bn Izumo-class helicopter carrier amid tensions with China
The conflicting territorial claims have led to a war of words, with both countries sending ships and aircraft to the islands to assert their claims.
In a notable incident in March, the Japanese Self-Defense Forces said they spotted 13 Chinese aircraft, including bombers and jets, flying between Japan's southern islands of Okinawa and Miyako.
READ MORE: China promises 'firm response' if Japan interferes in South China Sea
The Okinawa Island chain, stretching 1,400km south towards Taiwan in the East China Sea, hosts the bulk of the 50,000-strong US contingent stationed in Japan after World War II.