Paris prison guards torch tires to protest poor conditions, 200% overcrowding (PHOTOS, VIDEOS)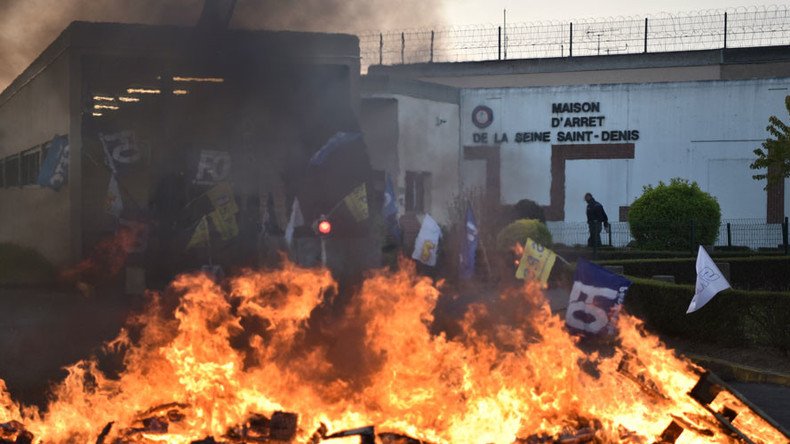 Dozens of prison guards have blocked entry to a detention facility in a Paris suburb to denounce prison overcrowding and "degrading" working conditions. The protesters burned a pile of tires and wooden pallets.
The rally took place near a 'maison d'arrêt' – a type of prison in France which holds inmates awaiting trial or sentencing – in the Villepinte commune of the Paris suburb of Saint-Denis on Thursday morning, local media reported.
The protest was organized under the slogan "A call for help." Shortly before 7:30am local time the demonstrators burned a pile of tires and wooden pallets.
"My prison will crack, 200% overpopulation," "Prison supervisors beaten with impunity, this is our reality," read banners held by protesters. The demonstrators also sang La Marseillaise, the national anthem of France.
"We are here to make a call for help, an SOS," Erwan Saoudi, a representative of the prison guards union within France's Workers' Force Confederation, told AFP.
READ MORE: Paris prison guards burn tires, clash with riot police outside Europe's largest jail (PHOTOS, VIDEO)
According to AFP, the number of inmates in Villepinte prison reached 1,080, although the facility is only able to accommodate 587.
The guards are trying to "alert public opinion and families because both the supervisors and the prisoners are in total insecurity inside the prison," Blaise Gangbazo from the French Confederation of Christian Workers told AFP.
The protest follows a mass rally at the Fleury-Merogis jail outside Paris on Sunday, when police faced-off against prison guards calling for better labor conditions. Tires were set on fire and smoke grenades were also reportedly used.
You can share this story on social media: