China launches satellite that would help counter natural disasters – state media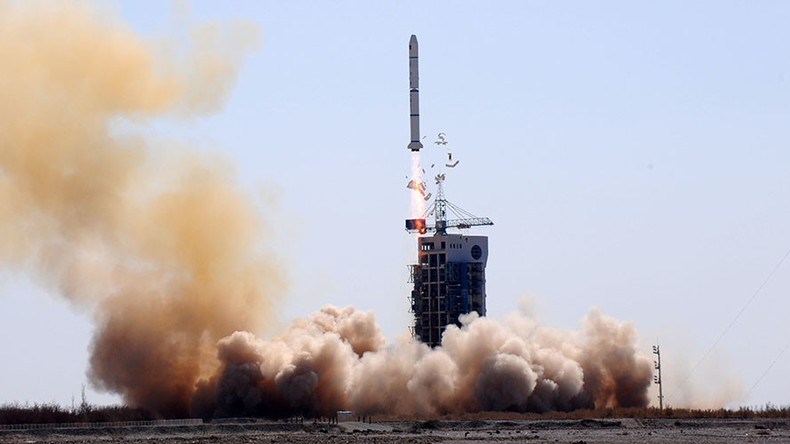 China has launched a communications satellite which will reportedly provide better internet access on planes and in less-developed regions, according to Xinhua. It is also said to help those at the scene of natural disasters.
Shijian-13, China's first high-throughput communications satellite, was launched from Xichang Satellite Launch Center in Sichuan Province on Wednesday. It was sent into orbit on a Long March-3B carrier rocket.
The benefits of the satellite – which has a transfer capacity of 20 Gbps and a designed orbital life of 15 years – will reportedly extend to aircraft, allowing for better internet service on planes.
The satellite will also allow passengers of high-speed trains to watch high-definition videos, Xinhua reported.
"The launch is a milestone for China's communications satellite technology," Tian Yulong, chief engineer of the State Administration of Science, Technology and Industry for National Defense, said.
But the satellite's benefits go beyond the technological and into the humanitarian sphere, according to Xinhua, which reported that it will also help people on the ground report emergencies during natural disasters.
Shijian-13 is the first Chinese satellite to be powered by electricity, and reportedly has the potential to improve efficiency by as much as 10 times compared to those using chemicals as propellant.
If achieved, that improved efficiency would extend the satellite's life and reduce launch weight according to Zhou Zhicheng, Shijian-13's commander-in-chief.
READ MORE: 'Much better than expected': Chinese 'hack-proof' quantum communication satellite put into service
The launch of the satellite – which also has the first laser communications system installed on a Chinese high orbit satellite with a long lifespan – comes as Beijing plans to launch five other communications satellites this year.
China is aiming to have 22 communications satellites by 2025, with five built on new designs, according to a development plan for civilian space infrastructure released in 2015. Shijian-18 is scheduled to be put into orbit in June.
You can share this story on social media: