Venezuela's president pelted with objects at rally (VIDEO)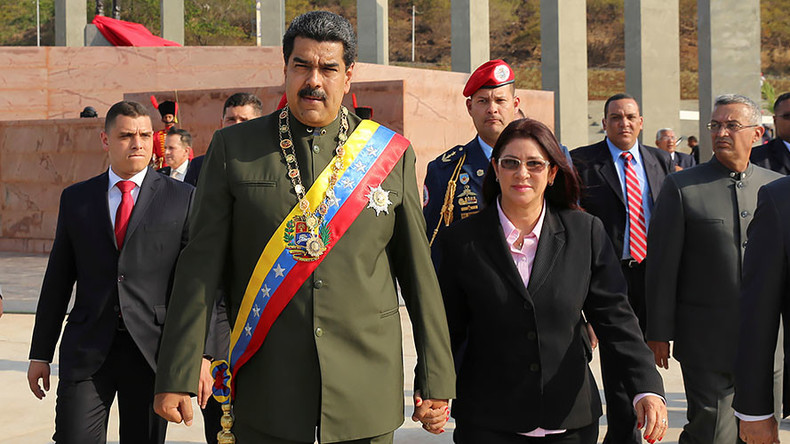 Protestors threw various objects at the open-top vehicle of Venezuela's President Nicolas Maduro as he greeted crowds in the state of Bolivar in the west of the country.
The incident happened on Tuesday night when Maduro was greeting his supporters atop a military jeep in the San Felix district.
It all went according to plan before a group of protestors made their way through the police cordon and surrounded the SUV carrying Maduro.
They shouted "bandit!" and offensive anti-Maduro slogans, hurling stones and other objects at the president's vehicle.
After several foreign objects hit the car or landed near it, Venezuelan state TV aborted the live broadcast of the event.
There were no reports of Maduro being hurt, but the president is seen covering his face with his hand right before the channel went off air. Maduro's main political rival, Henrique Capriles, has posted footage of the incident on his Twitter page.
Five people have been reportedly detained in connection with the assault on the Venezuelan leader, El Nacional paper reported.
Venezuela has seen a wave of violent protests, following an attempt by the country's Supreme Court to take on the functions of the National Assembly where the opposition hold the majority.
At least two people were killed in the country in the last two weeks, according to the RCN agency, with the Foro Penal Venezolano NGO speaking of over 280 arrests made by the authorities.
You can share this story on social media: