86yo woman arrested for spraying anti-war graffiti outside Swiss National Bank (VIDEO)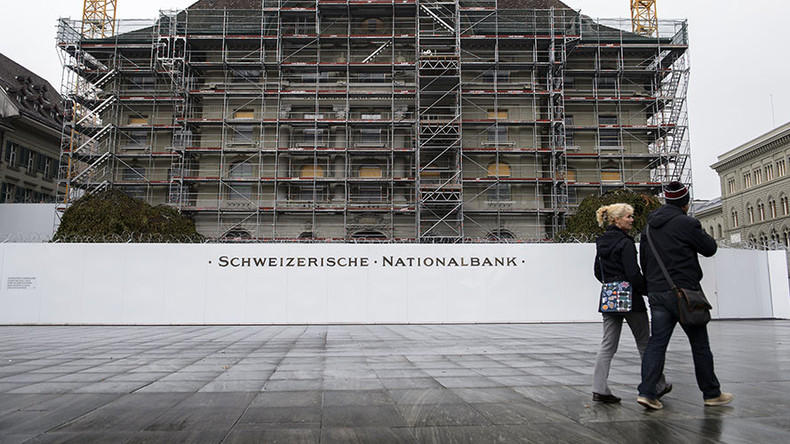 Swiss police have arrested an elderly woman for spraying anti-war graffiti outside the headquarters of the Swiss National Bank. Her protest was in support of an initiative aiming to ban Swiss financing of any company that produces weapons.
Louise Schneider, 86, was put into a police vehicle on Tuesday morning after spray-painting the slogan "Money for weapons kills" on a billboard outside the Swiss National Bank's headquarters in Bern.
The phrase was painted on a temporary partition which is screening off a construction site at the bank as it undergoes renovations.
Following the incident, the elderly peace activist could be seen smiling in photos while still holding her can of red spray paint.
Her action was in support of a political campaign launched by the pacifist Group for an Army-free Switzerland (GSsA), which aims to prevent banks from holding shares in companies that make weapons.
According to the group, Swiss entities have holdings of 4 to 12 billion Swiss francs (US$3.97-11.9 billion) in such companies.
The initiative will go to a national referendum if a petition reaches the required 100,000 signatures by October 2018.
"I admire her courage," said GSsA secretary Lewin Lempert, as quoted by Bloomberg. "What is a little bit of vandalism in comparison to the millions of francs that flow into wars?"
Schneider was later released without charges, according to Bern cantonal police spokesman Christoph Gnaegi.
However, a spokesman for the Swiss National Bank said the financial institution is currently looking into whether any legal action is warranted.