Syria situation 'an international armed conflict' after US missile strike – Red Cross to RT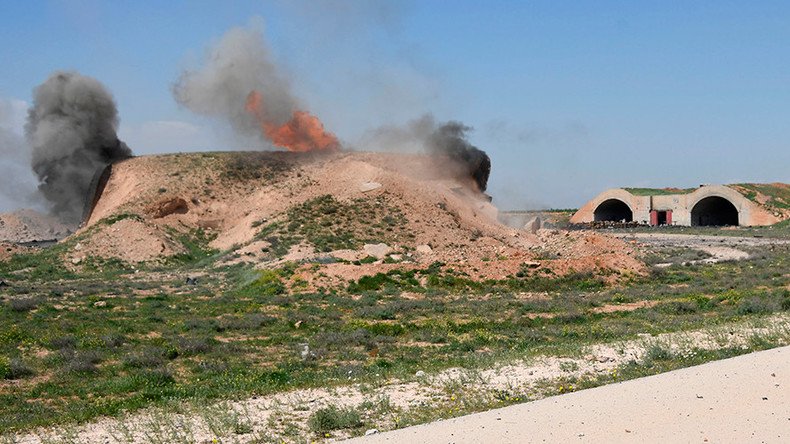 The Red Cross has characterized the current situation in Syria as an "international armed conflict" after the US missile strike on Syrian Shayrat airfield near Homs, the ICRC regional spokesperson told RT.
The International Committee of the Red Cross (ICRC) spokesperson for the Near and Middle East region, Ralph El Hage, spoke with RT about the shift in the organization's assessment of the ongoing Syrian conflict. The ICRC previously regarded the conflict as an internal conflict.
"When a military of a certain state attacks the military of another state on the territory of that state, and there are legitimate military targets, that amounts immediately to international armed conflict," he told RT.
The US attacked Syrian Shayrat Airbase near Homs on Friday night in retaliation to the suspected chemical weapons attack in southern Idlib province. Washington immediately blamed the Assad government for the incident, which reportedly killed dozens of civilians, claiming that Damascus used the airfield to launch the attack. The accusations have not been supported by any conclusive evidence yet.
READ MORE: Experts should be sent to Syrian airbase attacked by US to carry out chemical probe – Russian MoD
The Syrian government has rejected the allegations. According to the countries' military, the Syrian airstrike hit a warehouse which terrorists used to produce and store weaponized chemicals.
White House Press Secretary Sean Spicer called the US strike "a clear response on humanitarian purposes." Speaking to RT, the ICRC spokesperson did not pass judgment on America's intentions, but stated that the humanitarian approach should include "delivering humanitarian aid… medical aid, water aid, emergency food to people, who are in besieged areas, to people who are in the frontlines," as well as protection to the people.
"Any military operation by a state on the territory of another without the consent of the other amounts to an international armed conflict," International Committee of the Red Cross spokeswoman Iolanda Jaquemet said on Friday.
El Hage also emphasized that in case of further airstrikes, the world will see only "more human suffering, civilians' suffering in all over the country."
Although humanitarian organizations continue to provide humanitarian aid to Syria, it is not enough, according to El Hage. "Humanitarian aid that we and other humanitarian organizations together with the Syrian Arab Red Crescent deliver to people is not enough. What is needed is that parties to the conflict, that are warring parties in Syria today, respect international humanitarian law and all the principles of the law in order to prevent human casualties, human suffering, unnecessary civilian suffering. And that is what is important today."
You can share this story on social media: