Terrorist group ETA disarms after 40yr fight for independent state that killed 850+
Published time: 8 Apr, 2017 11:51
Edited time: 9 Apr, 2017 08:13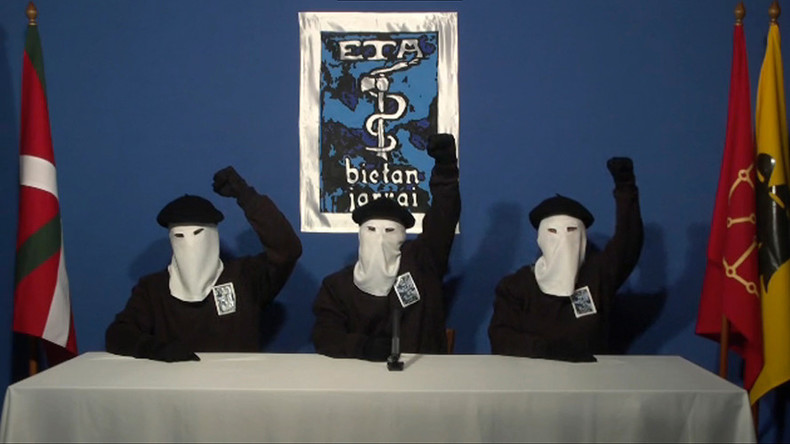 ETA, a violent separatist group, has handed over eight weapons caches to French authorities, marking their official disarmament after four decades of armed struggle for an independent Basque state in northern Spain and southwestern France.
"The ETA we've known up to now has gone forever," Borja Semper, Basque parliamentary spokesman for Spain's ruling People's Party, said outside the legislature in Vitoria-Gasteiz, Reuters reports.
"What remains to be done is to wipe out the hatred that ETA embedded in a large part of Basque society," he added.
ETA wrote a letter, obtained by the BBC, in which they stated that they would hand over their weapons to civilian go-betweens, who would deliver them to the official handover Saturday in Bayonne, France.
However, the group instead delivered coordinates to the eight weapons caches to the Italian Archbishop of Bologna and Irish Priest Harold Good, who then passed the information on to French authorities in the early hours of Saturday morning.
120 pistols, thousands of rounds of ammunition, 3 tonnes (3,000kgs) of explosive and thousands of detonators have been recovered so far.
#eta arms dumps coordinates handed over to Italian bishop Zuppi (Bolonia) and Irish priest Harold Good... then to French authorities

— Giles Tremlett (@gilestremlett) April 8, 2017
"Today I have received information from a civilian source information relating to the location of weapons. This information has been given to the French authorities," President of the International Verification Commission Ram Manikkalingam said, as cited by El Mundo.
"They will locate and secure ETA's arsenal. Our verification will not participate in the process," he added.
#ETA # Desarme Inventario proporcionado por los artesanos de la paz: 120 pistolas, 3 toneladas de explosivos y miles de detonadores.

— Ana Terradillos (@anaterradillos) April 8, 2017
The Spanish State prosecutor had been ordered to examine the weapons with a view to determining whether any were used in unsolved murder cases, but whether that can happen now remains unclear.
"This isn't something to celebrate, rather it is a time to remember the victims and consider that what ETA has done is what society has demanded for a long time," Lander Martínez, spokesperson for the left-wing Elkarrekin Podemos party, said, while acknowledging that the disarmament was positive news, RTVE reports.
"The most important fact today is that disarmament is taking place... though not the version ETA would have liked to see," Joseba Egibar, spokesperson for the Basque Nationalist Party the PNVC, said as cited by RTVE.
A press conference will be held at 3:00pm local time in Bayonne.
ETA (Euskadi Ta Askatasuna – Basque Country and Freedom) was founded on July 31, 1959 during the brutal reign of fascist dictator General Franco, and has sought an independent Basque state through violence and intimidation, in response to the perceived ineffectiveness of the Basque Nationalist Party.
Following the death of General Franco on November 20, 1975 and the subsequent return to democracy, regions throughout Spain were afforded more autonomy which undermined the group's violent struggle for an independent state which included bombings, kidnappings, and assassinations.
The group called a ceasefire in 2011, after a decades-long campaign of violence that claimed the lives of more than 850 people.
READ MORE: Thousands rally in Spain for rights of Basque separatist prisoners