3 strong earthquakes rock Philippines, largest measuring 5.9 magnitude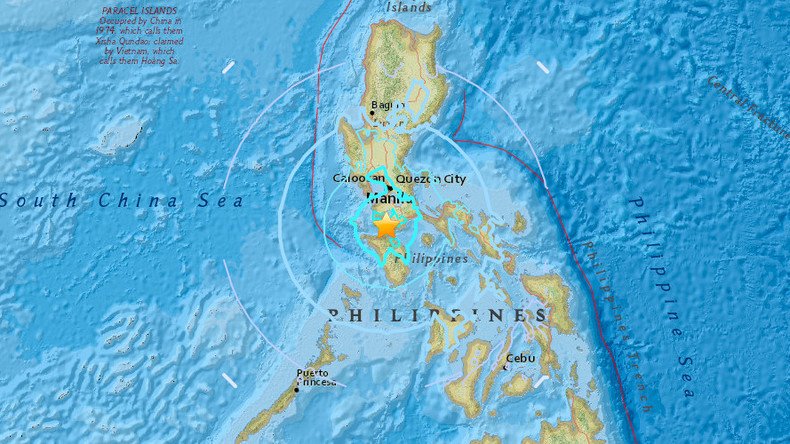 An earthquake measuring 5.9 on the Richter scale has hit the Philippines, in the Batangas province, south of Manila. The quake took place at a depth of 42.7 km.
The quake struck one kilometer outside Talaga in the center of Batangas, located less than 70 km south of Manila, reported the United States Geological Survey (USGS). No tsunami warning has been issued.
Batangas officials said no casualties have been reported yet. Power was cut off in several areas with multiple buildings experiencing minor damage, according to Reuters.
The quake could be felt as far away as the capital Manila and the island of Mindoro. An estimated 20 million people felt tremors, according to the European-Mediterranean Seismological Centre (EMSC), and evacuations are taking place across the affected areas.
5.9 earthquake, 1km SSW of Talaga, Philippines. 2017-04-08 15:09:27 at epicenter (27m ago, depth 43km). https://t.co/ev8kuo2rUm

— Earthquakes Tsunamis (@NewEarthquake) April 8, 2017
Hundreds of people located along the coast fled to higher ground following the quakes, while evacuations took place across affected areas.
The quake was the second and strongest of three that occurred over a 20-minute period, all between 5.0 to 5.9 in magnitude. The quakes were followed later the same day by a tremor measuring 4.7 reported EMSC.
"Residents in the coastal villages in two towns have evacuated to safer ground after the earthquakes," head of the provincial disaster council Lito Castro told local radio, reported Reuters, claiming people were afraid the quakes would generate tsunamis.
The earthquakes were described as a "swarm" by Renato Solidum, head of the Philippine Institute of Volcanology and Seismology. "These swarms are natural occurrences and we do not expect a big quake in this area," he said.
PHIVOLCS confirms they recorded two quakes in Batangas, 2 minutes apart. Both at magnitude 5.6. Aftershocks expected. No tsunami warning. pic.twitter.com/7IIv0Ibrzn

— Primy Cane (@PrimyDc) April 8, 2017
Landslides were reported at Mount Maculot, located south of where the tremor occurred.
You can share this story on social media: