'This is a war crime': Syrians in Damascus react to US missile strike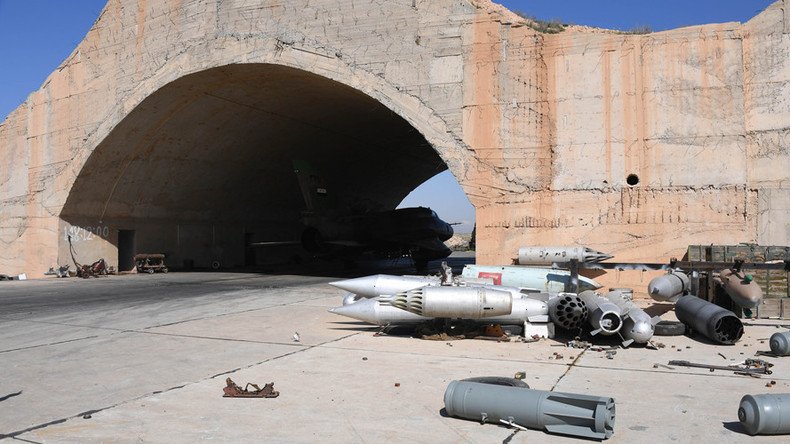 People in the streets of the Syrian capital of Damascus have harshly criticized a US attack on a Syrian airfield, advocating a response for what they called an "aggression" against the entire nation.
"This is a war crime, because those Syrian soldiers are part of our country, and we won't accept this at all," a Damascus resident told RT's Ruptly agency on Friday.
"As Syrians we have no fear, and we know that we are targeted and there is a conspiracy against us. Every time we move forward for stability and for victory they attack us or send terrorists to us… But we won't fear anyone because we are the owners of this land," another Syrian said, adding that the people of Syria "condemn this criminal act, carried by a country which claims to protect human rights."
US goes to war so often & easily that a good number of Americans believe raining down Tomahawk missiles on a country doesn't count as "war" https://t.co/xgvONdPKGQ

— Glenn Greenwald (@ggreenwald) April 7, 2017
Early Friday morning, at 4:40am local time (00:40 GMT) a total of 59 Tomahawk missiles were fired from US Navy destroyers in the Eastern Mediterranean. Ordered by Trump, the missile strike that targeted an airbase in the Homs province has been claimed to be a response to Tuesday's alleged chemical attack in Syria, Washington claimed, after accusing the Syrian government of "gassing" the people.
"If you want the truth, it is just an argument to enter the country, like with what they did in Iraq. In my opinion, that was a wrong move and we have to respond," another Damascus resident told Ruptly.
"The purpose of the strike is to weaken the Syrian resistance and lessen our chances in winning the war. But even if the whole world is against us, we will keep [fighting] and we will win with our president," yet another Damascus resident said.
Other people in the streets of the Syrian capital also strongly condemned "the American aggression," with some saying they saw it as a "response to the achievements of the Syrian army in the country."
READ MORE: US afraid of real investigation into Syria chemical incident – Russian deputy UN envoy
At least 14 people including nine civilians were killed in the US strike, the governor of Homs, Talal al-Barazi told RT Arabic. Several others were injured in the attack, the Syrian official said, adding that the majority of victims of the missile strike were local villagers.
The White House described its missile attack as a "very decisive, justified and proportional" action, claiming there was "a huge humanitarian component" to its military operation in Syria.
You can share this story on social media: