America's Syria strike 'on verge of military clash' with Russia – PM Medvedev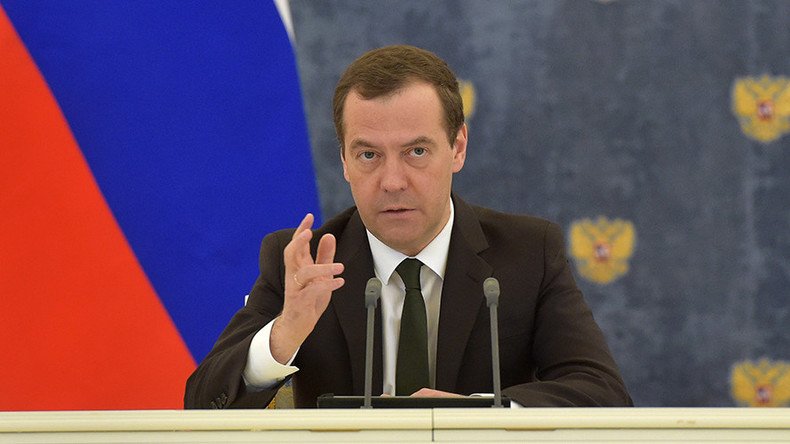 The US attack on an airfield in Syria has been conducted "on the verge of a military clash" with Russia, Prime Minister Dmitry Medvedev said, adding that President Trump has been "broken by the US power machine" in just two-and-a-half months.
"Instead of an overworked statement about a joint fight against the biggest enemy, ISIS (the Islamic State), the Trump administration proved that it will fiercely fight the legitimate Syrian government," Medvedev wrote on his Facebook page.
READ MORE: US fires dozens of Tomahawks at Syria military base near Homs, Trump cites 'Assad's chem attack'
The prime minister stressed that to pursue this goal, the US is eager to act "in a tough contradiction with international law and without UN approval, in violation of its own procedures stipulating that the Congress must first be notified of any military operation unrelated to aggression against the US."
The missile strike in Syria has revealed that the current US administration lacks independence and hangs on the Washington establishment that Donald Trump used to strongly criticize during the presidential race and his inauguration speech, Medvedev added.
"Soon after his victory, I noted that everything would depend on how soon Trump's election promises would be broken by the existing power machine. It took only two and a half months," Medvedev wrote.
"Nobody is overestimating the value of pre-election promises but there must be limits of decency. Beyond that is absolute mistrust. Which is really sad for our now completely ruined relations. Which is good news for terrorists," the prime minister concluded.
READ MORE: Putin believes US attack on Syria violates international law – spokesman
On Friday, the US carried out a missile strike on the Shayrat airfield near Homs in response to an alleged chemical attack on a rebel-held town in Idlib province the blame for which Washington has immediately pinned on the Assad government. The strike has been condemned by Iran and Russia with Kremlin spokesman Dmitry Peskov saying that President Putin "regards the strikes as aggression against a sovereign nation," in violation of international law, "and also under an invented pretext."
READ MORE: Russia suspends flight safety memorandum over Syria after US missile strike – Foreign Ministry
Damascus has explained that the Syrian air force bombed an arms depot where chemical weapons had been stockpiled by Islamic State (IS, formerly ISIS/ISIL) and Al-Nusra Front militants.
You can share this story on social media: