Russian military bases in Syria under 'ensured' air defense cover — MoD after US strike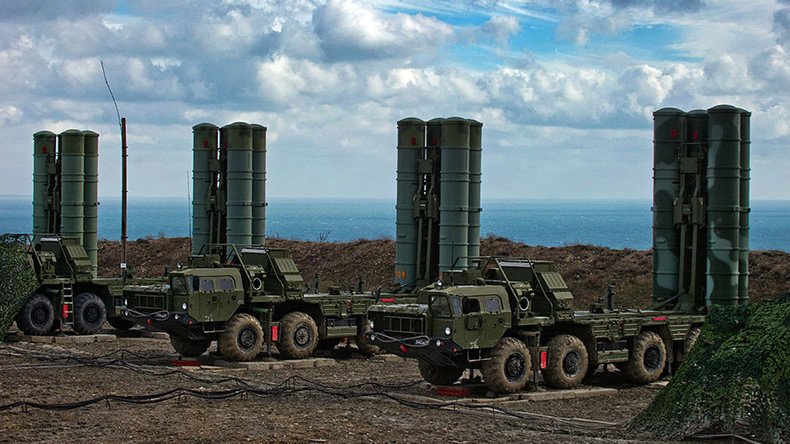 Russia's S-400 and S-300 anti-missile complexes are among the systems providing protection for its military bases in Syria, the Defense Ministry said following Washington's missile attack.
The S-400 Triumph missile system and the Pantsir complex, which is a short to medium range surface-to-air missile and anti-aircraft artillery weapon system, are ensuring the protection of Russia's Air Force at the Khmeimim airbase in Syria, Defense Ministry spokesman Major-General Igor Konashenkov told the media on Friday.
Additional defense systems, including S-300 complexes, have been deployed to provide "guaranteed" cover for a station in the Syrian port of Tartus that provides technical support for the Russian Navy, Konashenkov added.
"Combat units of Russia's air defense systems in Syria are on duty 24/7," Konashenkov said.
The S-300 missile systems were deployed at Syria's port of Tartus in 2016, to provide protection for both the base and Russian military ships in Syrian waters. The S-400 air defense complex, the Russian Army's most modern air defense system, was delivered to Syria in November of 2015, after a Russian Su-24 fighter jet on an anti-terrorist mission in Syria was shot down by a Turkish aircraft.
While the Pantsir complexes protect the Russian military and its infrastructure from lower-flying missiles, Russia also has Bastion coastal defense missile systems in Syria that can engage a target both in the water and on land at a distance of up to 450 kilometers (280 miles).
At the same time, Syria's S-200 air defense systems have been restored with Russia's help, TASS reported, adding that those complexes are also deployed to provide protection for the Russian military in eastern Syria.
The efficiency of the Syrian air defense systems will be beefed up, Konashenkov told reporters several hours after the US conducted a missile strike on a Syrian airfield.
"To provide cover for the most sensitive targets of the Syrian infrastructure a set of measures to bolster" the defense systems would be "shortly implemented," he said.
Earlier in the day, the US launched 59 Tomahawk cruise missiles on the Syrian military's Shayrat airfield in Homs province. The attack killed at least six people and injured several others.
You can share this story on social media: