'To protect Europe from terrorists, stop backing them in Syria' – Assad interview before US strike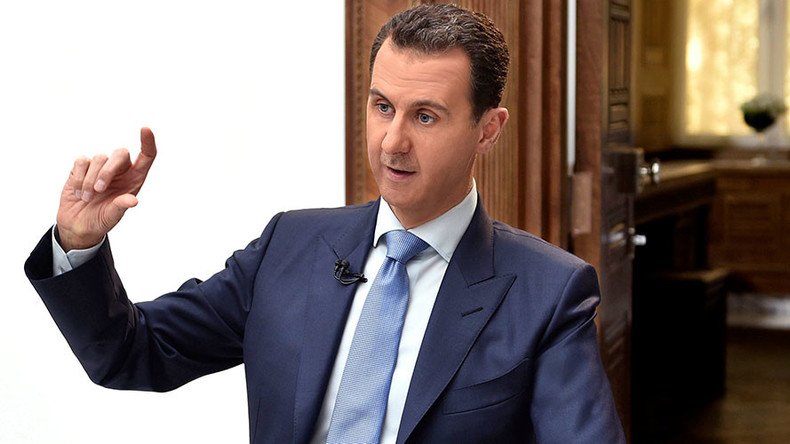 European countries that have recently been hit by a wave of terrorist attacks must stop supporting the terrorists in Syria if they want to stop the onslaught, Syrian President Bashar Assad said days before the US launched a missile strike on Homs.
In an interview with Croatian newspaper Vecernji List on April 3 that was released on Thursday, Assad stressed that if there had been cooperation between Syria and Europe, some of the attacks that rocked Europe might have been prevented. However, such cooperation won't be effective until Europe withdraws its support for the jihadists, he argued.
"If Europe wants to protect itself at this stage, it should first stop supporting terrorists in Syria. Assuming that we wanted to cooperate with them, no results can be achieved in these circumstances," Assad said, adding that "in normal circumstance" terrorist attacks could be prevented via security cooperation.
The Syrian leader noted that "a number of European countries" have put obstacles in the way of peace by funneling support to militants in Syria, "directly or indirectly," in the form of "arms, money, political cover, and everything."
Weighing in on the persistent calls coming from some Western countries, most notably the UK and France, for him to step down, Assad said that these demands are driven by an unwillingness of Western countries to "accept independent states," as they "do not accept peer relations."
READ MORE: 'No role for Assad': Tillerson's U-turn on Syria regime change
"They want satellite states which implement their policies," Assad said, adding that the US and some European countries are working to bring about Syria's "submission instead of peace."
"They want us to give up our sovereignty, to abandon our rights, which are acknowledged by international law," Assad said.
While media reports may make it look like Syria has few allies, in reality, many countries, among them some Gulf States, have offered to help the Syrian government fight terrorism, without making their assistance public, Syria's president revealed.
"Most countries of the world are against terrorism. They do not declare that, but they have been practically cooperating with us in one way or another during the war, and before the war, because terrorism did not start only with the war on Syria," Assad claimed.
In contrast, he said that the Western countries that paint themselves as paragons of virtue by declaring "a war on terror" continue to support jihadist entities, using them as "a card to achieve different political agendas, even when this terrorism backfires."
Meanwhile, Assad said he believes the view of ordinary people on what is going on in Syria is gradually changing despite all the efforts of the mainstream media to alter the truth.
"What has changed in Europe today is that the public knows very well that the corporate media and the politicians are lying," he said.
US statements on Assad's future 'thrown in the rubbish bin'
The interview was apparently given before a suspected chemical attack took place on Tuesday in Syria's Idlib province, where dozens of civilians lost their lives. In the aftermath, the US signaled another U-turn in its Syria policy, threatening military action and insisting that Assad must go, in line with the rhetoric of the last US administration.
Those threats were followed by a cruise missile strike early on Friday, in which 59 Tomahawk missiles were launched at a Syrian military airbase near Homs, killing and injuring several people, according to the Homs governor.
However, even before Washington ramped up its rhetoric against Assad, the Syrian president said it makes no difference to him whether the US wants him to stay or go.
"We have never paid any attention to it [statements coming from Washington] and never commented on it because it does not concern us. This is a Syrian issue related to the Syrian people," he stressed, explaining "that's why all that has been said on the subject is simply thrown in the rubbish bin."
Assad said he sees no difference between the approaches of the Obama and Trump administrations, as both sent US troops to Syria, in what amounts to an illegal invasion.
"It means that this administration, like other administrations, does not want stability to be restored in Syria," he said.
Speaking on the prospects for the Syrian government to emerge from the conflict that has been ravaging the country for the last six and a half years, Assad said, while the hope for a final victory "is becoming greater," he only sees one outcome that will allow Syria to continue to exist as an independent state.
"In any case, we do not have any other option except victory. If we do not win this war, it means that Syria will be deleted from the map," he said.
You can share this story on social media: