Russia calls for UN Security Council talks on Idlib 'chemical attack' resolution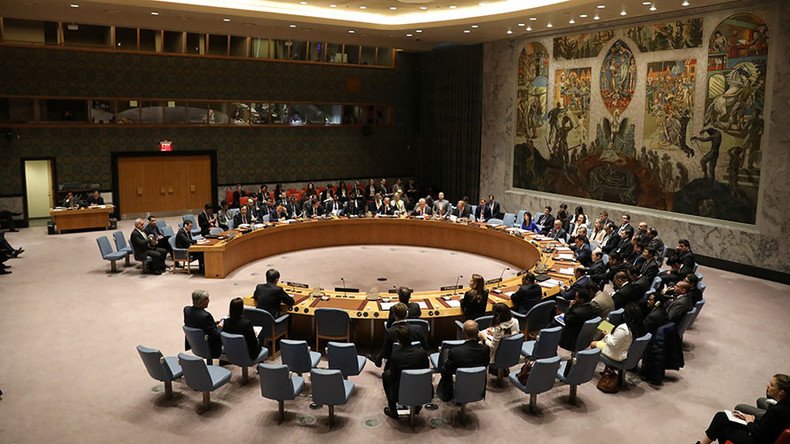 The Russian mission to the United Nations has called for Security Council consultations on the Idlib "chemical attack" resolution, it said.
"Russia called consultations on draft resolution on Idlib at 6:30 pm (EDT)," (10:30 pm GMT) on Thursday, a source from Russia's permanent mission said.
Diplomatic sources told Interfax that a vote on the draft proposed by the US, UK and France will take place right after the talks.
Discussion of the resolution at the Security Council on Wednesday led to a heated debate, with the US even threatening to take its "own action" the UN fails to find common ground on the issue.
The US envoy to the UN, Nikki Haley, hurried to put the blame on the Syrian government, saying the incident carried "all the hallmarks" of an attack by Damascus. Russia, for its part, criticized the Western draft resolution for being unbalanced and jumping to conclusions.

The Russian deputy acting envoy to the UN, Vladimir Safronkov, urged an impartial international investigation of the incident, stressing that the already existing documents on Syria would be sufficient to carry one out.
READ MORE: 'No role for Assad': Tillerson's U-turn on Syria regime change
Later, Russia introduced its own draft resolution "aimed at staging a real investigation (of the Idlib attack), instead of appointing those guilty before the facts are even established."
READ MORE: 'We are compelled to take own action' if UN fails in Syria – US envoy
At least 70 people, including 11 children, were reportedly killed in a suspected chemical incident in the town of Khan Sheikhoun in Iblib province, Syria, on Tuesday.
You can share this story on social media: