Germany investigates 20 'Turkish spies' complicit in snooping on Gulen movement
Published time: 6 Apr, 2017 12:26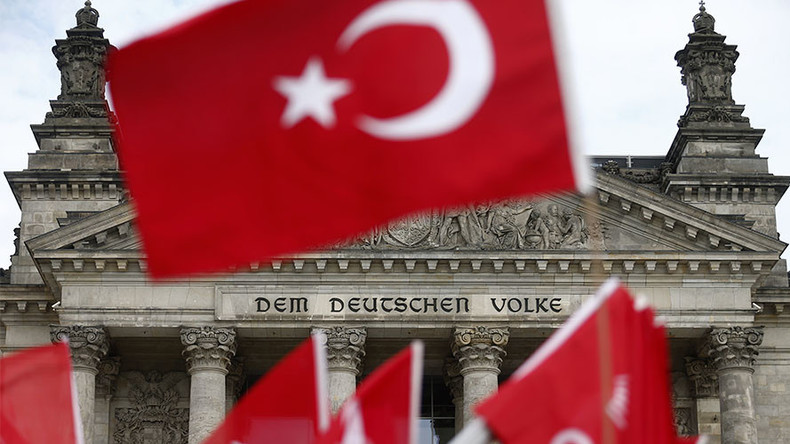 Twenty Turkish citizens are being investigated over "intelligence activities" against supporters of dissident Fethullah Gulen. Ankara accuses the cleric of masterminding the failed 2016 military coup attempt.
"At present, a total of 20 suspects are being investigated for intelligence activity on behalf of the Turkish government, as well as for spying on followers of the Gulen movement," read an official government response to a request for information filed by Sevim Dagdelen, a German Left Party MP, cited by Die Welt.
President Recep Tayip Erdogan's government accuses Gulen, a Turkish dissident cleric living in the US, for orchestrating the failed military putsch in July last year, in which over 200 people were killed. During a crackdown on suspected coup plotters, tens of thousands of Gulen followers were fired from jobs in the civil service, the military or media, with many more imprisoned.
The 20 persons in question reportedly belong to Turkey's intelligence agency MIT as well as the Turkish-Islamic Union for Religious Affairs (DITIB), one of the largest Muslim associations in Germany, funding over 900 mosques and Islam-related institutions, Die Welt reported.
There have long been allegations that Turkish authorities are using imams and Turkish citizens to spy on Gulen followers. Usually, the Turkish agency Diyanet trains, funds and supplies imams for hundreds of mosques across all Germany, who formally remain Turkish government employees.
In January, the secretary-general of Ditib Bekir Alboga, appeared to have changed his tune, admitting in a comment to Rheinische Post in January that although "the written instructions of the Turkish Presidency of Religious Affairs were not addressed to Ditib… some Ditib imams wrongly followed them."
According to Sueddeutsche Zeitung, the head of MIT Hakan Fidan handed Bruno Kahl, chief of German intelligence agency BND, a list of 300 Gulen-affiliated individuals and 200 organizations during the Munich Security Conference in February.
Apparently, the Turks tried to persuade Germany to help spy on Gulen followers, but the result was that these persons were advised to refrain from visiting Turkey or Ankara's diplomatic missions in Germany – home to a sizeable Turkish diaspora.
READ MORE: Islam stands above German law for half Turkish Germans – survey
The spying row has seemingly infuriated Berlin, with Interior Minister Thomas de Maiziere saying, "No matter what attitude someone may have on the Gulen movement, it is German jurisdiction that applies here and our citizens will not be spied on by foreign governments," according to Die Welt.
German media reported earlier in March that Federal Prosecutor's Office (GBA) had launched a probe into suspected spying by Turkey, specifically targeting Halife Keskin, head of foreign relations with Diyanet.
Tensions have been running high between the two NATO allies since last year, when dozens of Turkish officers and diplomats sought refuge in Germany. This year, the flare-up between Berlin and Ankara escalated further when German authorities canceled several pro-Erdogan rallies in support of expanding presidential powers, drawing accusations of using 'Nazi measures'.