US Secretary of State Tillerson to visit Moscow on April 11-12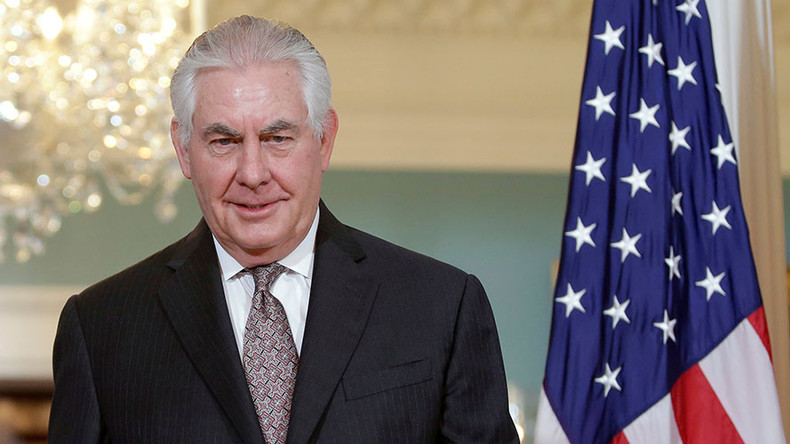 The US secretary of state will visit Moscow on April 11-12 for talks with Russian counterpart, Sergey Lavrov, Russia's Foreign Ministry said.
"On April 11-12, US Secretary of State, Rex Tillerson, will arrive in Moscow on a working trip. It's his first visit to our country as the head of the foreign policy department in the [President] Donald Trump administration," the ministry said in statement.
The US State Department has confirmed Tillerson's Moscow trip, saying that the issues of bilateral relations, Syria, Ukraine, North Korea and the fight against terrorism will be discussed in the Russian capital.
It's not clear yet if Tillerson will also meet Russian President Vladimir Putin during his Moscow visit.
"Tillerson is a guest of our foreign minister. He's coming to see Lavrov and then we can go from there," Yury Ushakov, Russian presidential aide, said when addressed on the issue.
However, Ushakov stressed that it's not uncommon for the Russian president to meet the visiting heads of foreign departments.
Lavrov and Tillerson held their first meeting at a G20 summit in Bonn, Germany, on February 16.
At the time, both diplomats described the talks as productive, expressing readiness to try restoring relations between Moscow and Washington, which slipped to almost-Cold War levels under the Obama administration.
After the meeting, Tillerson said that "the US will consider working with Russia when we can find areas of practical cooperation that will benefit the American people."
US Republican Senator Marco Rubio and Democrat Jeanne Shaheen have urged Tillerson to meet not only with Kremlin officials, but also the opposition during his Moscow stay.
"We feel strongly that democratically-minded Russians should know that the US supports their aspirations, and as our nation's top diplomat, you are in a unique position to communicate this message," Rubio and Shaheen, who sit on the subcommittee overseeing the State Department budget, said in letter.