Erdogan vows 'good surprises' & more Turkish ops in Syria as Euphrates Shield 'ends'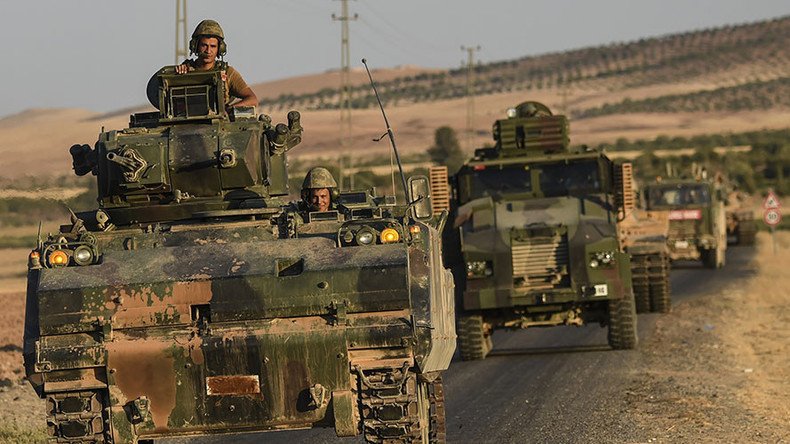 Days after Turkey said it had ended the controversial seven-month Euphrates Shield operation in northern Syria, President Recep Tayyip Erdogan announced the military is planning new offensives and "good surprises" in the coming months on Syrian soil.
The president said more cross-border operations are likely to follow against militant groups Ankara deems terrorist, including Kurdistan Workers' Party (PKK) and the Kurdish militia known as People's Protection Units (YPG).
"We have completed the first phase of the Euphrates Shield Operation with the cleaning of al-Bab, Syria, from terrorists. It is now over and there will be [operations] from now on," Erdogan said, as cited by Hurriyet.
At this stage, the Turkish military is planning new offensives in other parts of Syria, Erdogan said. He added Ankara has "very good surprises for all terrorist groups, including the PKK, YPG, Daesh [Arabic acronym for Islamic State, formerly ISIS/ISIL] and FETO [Gulenist organization]."
"With God's will, the upcoming months will be the dead of winter for terrorists, while it will be spring for Turkey and the Turkish nation," he proclaimed. Erdogan did not specify where and when the new military operations would take place.
Previously, Prime Minister Binali Yildirim said Euphrates Shield has been a success, but signaled the new operations would follow under a "different name."
"In case our security is threatened or if action is needed against Daesh, then it will come as part of a new operation. That means the Euphrates Shield is over and any potential actions, if necessary, will be named differently," Yildirim told broadcaster NTV last Wednesday.
On August 24, 2016, the Turkish military ordered troops, tanks and combat aircraft planes to cross the Syrian border – first to suppress Kurdish insurgency and move it away from the entire border, and then to combat IS militants in northern Syria.
In recent months, the Turkish Army and Ankara-backed Syrian rebels have seized the strategic towns of Jarablus and al-Bab, advancing into one of the most tumultuous battlefields of the Syrian civil war. Turkish troops and their rebel allies, US Special Forces and the Syrian Army were all present near al-Bab, risking uncontrolled military confrontation.
The US has long been concerned about the Turkish invasion of Syria, while Germany – a NATO ally – maintained that a lasting Turkish presence in the war-ravaged country is undesirable. However, as Washington prepares to retake Raqqa – IS's bastion in Syria – the US and Turkey are now trying to find common language.
Last Thursday, US Secretary of State Rex Tillerson visited Turkey to discuss the upcoming Raqqa offensive. Ankara wants the US to back Turkey's military and allied Syrian rebels, but the US has long been arming Syrian Kurdish fighters.
"Let me be very frank: these are not easy decisions," Tillerson said in Ankara. "They are difficult decisions that have to be made."
Damascus says it views all foreign troops entering Syria without government authorization as "invaders." Speaking to Chinese television in early March, President Bashar Assad stressed Damascus had never "opened doors" to the US or Turkish troops; he also cast doubt that the Americans would succeed in combatting IS.
"What are they [foreign troops] going to do? To fight ISIS? The Americans lost nearly every war. They lost in Iraq – they had to withdraw at the end. Even in Somalia, let alone Vietnam in the past and Afghanistan," Assad said. https://www.rt.com/news/380256-assad-foreign-troops-invaders/
You can share this story on social media: