'Existential danger to enemies': Netanyahu inaugurates Israel's latest anti-missile system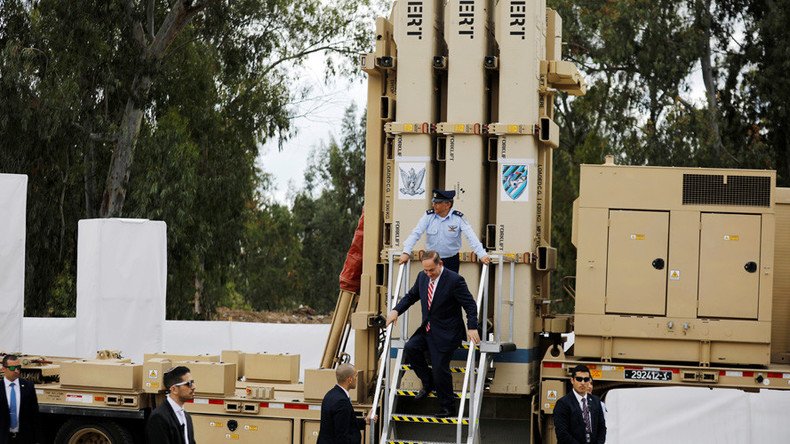 Israel's Prime Minister Benjamin Netanyahu has officially announced that a new system designed to intercept medium-range missiles has become operational and Tel Aviv's enemies have henceforth "put themselves in existential danger" if they try to attack Israel.
"I will reiterate, that whoever wants to strike us will be beaten, and those who threaten our existence are putting their own lives at risk," Netanyahu said at the official ceremony on Sunday inaugurating the joint US-Israeli missile interceptor at the IDF's Hatzor base. The event was attended by US defense officials, the Times of Israel reported.
We're proud to operate an integrative aerial defense system, the most advanced & best in the world, from ground & up to space
-IAF Commander pic.twitter.com/BAK8mKz9HV

— IDF (@IDFSpokesperson) April 2, 2017
"Together we can meet challenges a lot better than any of us can alone. In this case, the white and blue is better together with the red, white and blue," Netanyahu said, addressing among others director of the US Missile Defense Agency Vice Admiral James Syring.
"We have pioneering technology here, as Israel continues to be a world leader in this field. The ingenuity of our people and the fighting spirit of our soldiers multiply our strength against our enemies and enable us not only to defend the home front but to achieve victory in battle," the prime minister said, adding, that he attaches "very great importance" to defending the home front, Ynetnews reported.
The system, known as David's Sling, is a joint project by the Israel Missile Defense Organization and the US Defense Department's Missile Defense Agency.
"There is no alternative to this system," Defense Minister Avigdor Liberman said, adding the new missile defense system was essential for the country's security.
"Thanks to this system, we will be able to deal with our enemies, which we unfortunately have," the minister said.
David's Sling, formerly known as Magic Wand, is an air-defense system designed to intercept enemy planes, drones, tactical ballistic missiles, medium-to long-range rockets and cruise missiles. It is set to replace the MIM-23 Hawk and MIM-104 Patriot in the Israeli arsenal. It is a portable system, and with enough launchers deployed, is capable of providing national coverage.
The Iron Dome system is the lowest layer of David's Sling capable of intercepting short-range rockets, small unmanned aerial vehicles and some mortar shells like those that have been fired at Israel from the Gaza Strip or from southern Lebanon.
READ MORE: Syria claims Israeli jet shot down after strike near Palmyra, IDF says all aircraft undamaged
The Arrow 2 and Arrow 3 systems are on top of the layered system, capable of engaging long-range ballistic missiles. The latest known instance of its operational use was on March, 15, when the Arrow downed an incoming anti-aircraft missile fired at Israeli jets which had breached Syrian airspace to strike what Tel Aviv claims to be Hezbollah targets.
You can share this story on social media: