Tear gas, scuffles, projectiles flying at Paris rally against police brutality (VIDEOS)
A protest at Place de la République in Paris to pay tribute to a Chinese man killed by police has grown violent, with some protesters starting scuffles with police and throwing projectiles. Police have responded with tear gas.
Live streams and videos from the site show protesters who gathered in Paris on Sunday scuffling with police and kicking away tear gas canisters thrown at them by law enforcement officials.
Some of the activists began shouting "police are murderers."
The demonstration was held in memory of Shaoyo Liu, who was shot dead by a police officer at his house on March, 26.
The event started peacefully with a minute of silence. Crowds of people were seen holding white roses and banners reading: "For peace, justice! Against violence," and "I love France!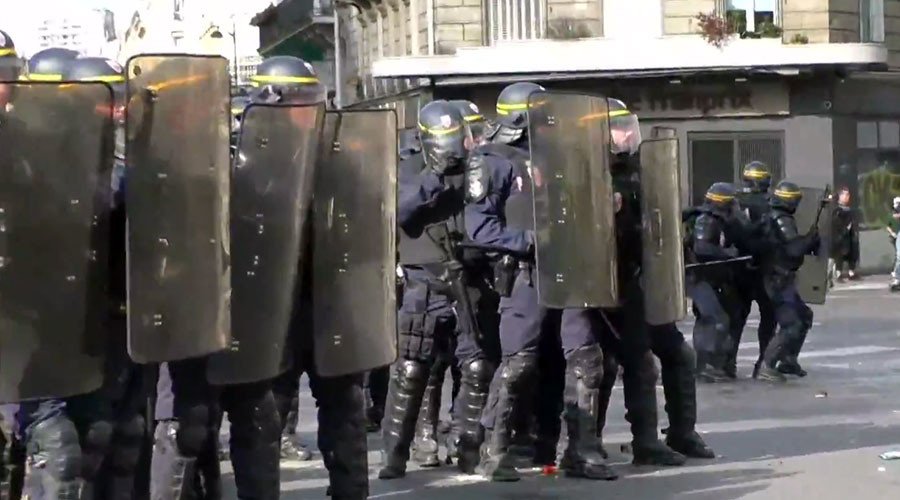 READ MORE: Tear gas, bottles fly as Paris police & anti-brutality protesters clash for 3rd night (VIDEOS)
Shaoyo Liu's photo was displayed at the foot of a statue in the center of the square. His family, including wife and daughters, were also spotted in the crowd. They were wearing white as a sign of mourning.
Apart from that, some people held scissors, apparently made of cardboard, which has become a symbol of the incident since Liu allegedly attacked the police officer with scissors before being shot dead.
Patricia Chagnon, a member of the Front National party, has noted that the protests in Paris have been much underreported by western media.
"It is a story that doesn't fit into the picture that the mainstream media are trying to feed to the French people," Chagnon told RT, adding that the images are "shocking" and reminiscent of a "Civil war."
Last Sunday, police were dispatched to Liu's house after a call reporting a domestic dispute. Liu resisted and the police officer had to open fire, police sources say, according to AFP.
However, according to the man's family, there was no domestic dispute and the man was shot at without warning.
The incident has triggered an outcry among members of the Asian community, who have been staging protests that have descended into violent clashes.
Several thousand people took part in Sunday's memorial for Shaoyo Liu, according to local media reports.
You can share this story on social media: