3 dead, tens of thousands evacuated as Cyclone Debbie ravages Australia (PHOTOS, VIDEOS)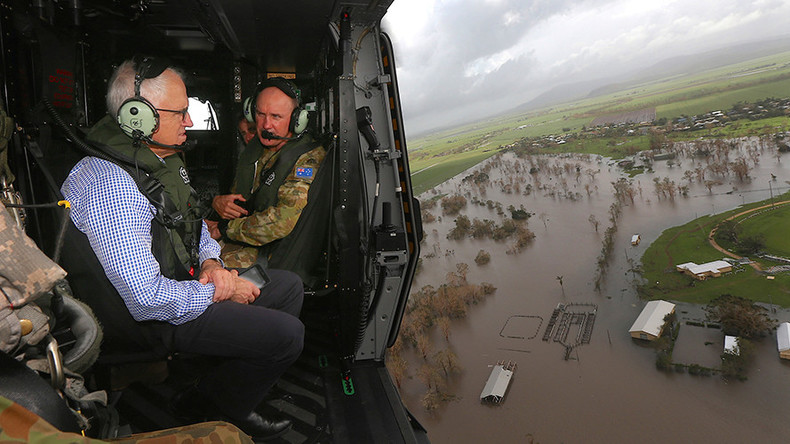 Australia's east coast is currently being battered by Cyclone Debbie. And with record floods expected, tens of thousands of people have been evacuated as authorities brace for damages of hundreds of millions of dollars in the coming days.
The Insurance Council of Australia has already declared both the Queensland and northern New South Wales regions as disaster zones, with estimated damages of up to Aus$1 billion ($762 million).
Almost 100,000 homes have been left without power and evacuees are unsure of what to expect once the storm finally passes late next week. Many are predicting that Debbie will be the worst tropical storm to hit the area in a century.
The disaster zone stretches 1,000 km (600 miles) from Queensland's Gold Coast tourist strip to the farmlands of New South Wales state, and mass evacuations have already taken place though many have been left stranded due to severe floods and high winds.
WATCH MORE: Drone captures devastating floods in Lismore, Australia
"By Wednesday, we will be at peak flooding in Rockhampton [Queensland]," Police Commissioner Ian Stewart said, as cited by AFP. "It will be a gradual rise, so I encourage people to move now."
While rescue efforts are ongoing, weather conditions have hampered emergency services as the tropical cyclone rages on.
Police found the bodies of three people in the flood waters Friday; one near Murwillumbah, another in the Hunter region of NSW, and a third in Eagleby, southeast Queensland reports ABC News.
Category four Cyclone Debbie hit northeastern Australia on Tuesday, with sustained winds of up to 158–198 km/h (99–130 mph) and extremely powerful and destructive gusts reaching speeds of up to 226–280 km/h according to the Australian Bureau of Meteorology.