'Let's Stop Brussels' – Orban's govt asks Hungarians how to deal with EU policies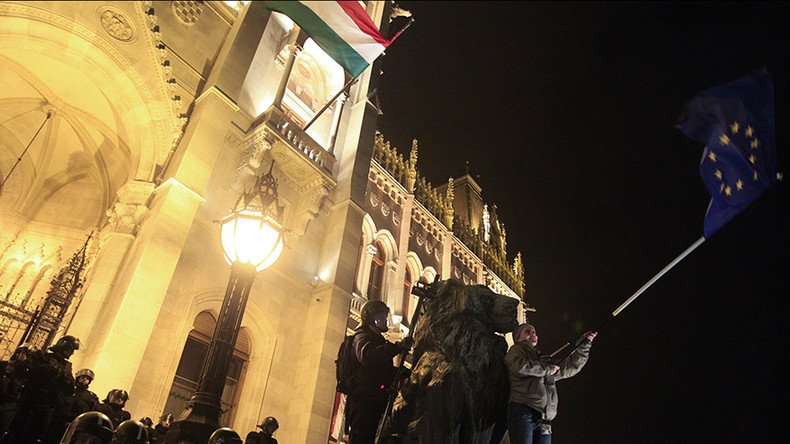 Hungary has launched a nationwide campaign asking people how to deal with EU policies which "pose a threat" to the country's independence.
"Big decisions and struggles lie ahead of Hungary in the coming period, (Hungary) can only win those struggles if it feels the support of the country," the country's senior government official, Bence Tuzson, told reporters in Budapest, officially launching the campaign on Saturday.
Within the framework of the campaign, every household in Hungary is to receive a questionnaire dubbed "Let's stop Brussels!" which consists of 6 questions regarding national independence from the EU.
Citizens are asked "what Hungary should do" about this or that EU policy – such as immigration, intervening in the internal affairs by international nongovernmental organizations (NGOs), job creation support, energy prices and tax-raising powers.
For instance, according to AFP, one question asks "what Hungary should do" when "despite a series of recent terror attacks in Europe... Brussels wants to force Hungary to let in illegal immigrants."
The questionnaire provides answer options: "Illegal immigrants should be kept under supervision until the authorities decide in their cases" or "We should allow illegal immigrants to move freely in Hungary".
The first questionnaires have already been delivered at a number of Hungarian households, according to Tuzson.
Announcing the survey earlier this week, Csaba Domotor, parliamentary secretary in the Prime Minister's Office, stated that "by participating in the [survey], [Hungarians] are protecting our national independence."
"The government is asking for the assistance of the Hungarian people so that we will be able to defend our borders and avoid the compulsory settlement of foreigners," he stressed.
In 2015, the Hungarian authorities headed by anti-EU Victor Orban already launched a similar campaign, "National Consultation," which asked households about "immigration and terrorism."
That 12-question survey asked whether Hungarians agreed that "the mismanagement of the immigration question by Brussels may have something to do with increased terrorism?" and whether "economic migrants jeopardize the jobs and livelihoods of Hungarians?"
The survey was accompanied by a letter signed by Orban in which he blamed the 2015 terror attacks in Paris on migration.
The survey was criticized at the time, especially by the UN refugee agency (UNHCR) which expressed "shock" at its questions, saying it could boost xenophobia in Hungary as it "vilified" and "wrongly blamed" refugees in general for threats to Hungary and Europe.
Hungarians now have until May 20 to submit their answers to the "Let's stop Brussels!" survey, Hungarian media reports.
You can share this story on social media: