French President Hollande 'invites' everyone to his 'farewell party' in hacked Facebook post
Published time: 31 Mar, 2017 07:07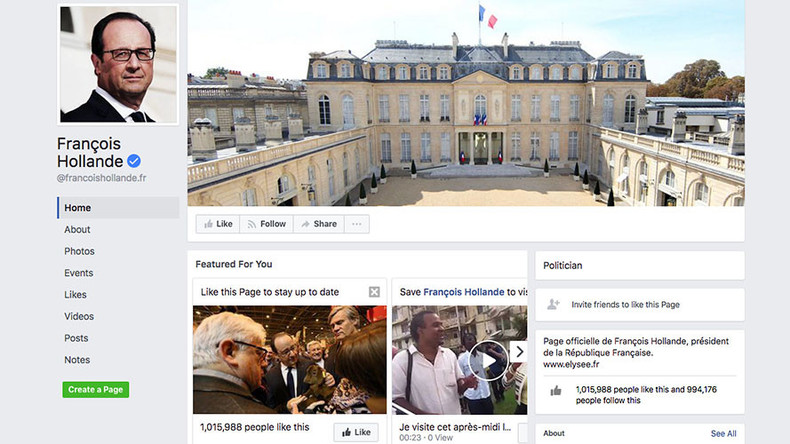 The Facebook page of French President Francois Hollande was hacked, with a fake event urging people to come to his "Farewell party" on May 7.
"Finally, here we are. We have been waiting for this impatiently for 5 years. We'll celebrate it properly, do come, bring the children, it's a people's party! (nota bene: it's humour)."
[The picture of the day | The Facebook page of Francois Hollande briefly announces an invitation to his 'farewell party.' Who's coming?]
The event was visible for at least an hour on Thursday, and was then removed, BFMTV reported.
The channel also said that it was a group named 'For the Resignation of Francois Hollande' that hacked the page, but the organization has denied it.
No comments followed from the Elysee Palace, BFMTV reported.
Hollande's group administrator said he had no idea how the hack was possible. "I still don't know how this happened," he wrote in a message to the page's 12,000 subscribers.
It's not the first time that a French president's social media account has been hacked. In January 2011, then-leader Nicolas Sarkozy's account featured a message addressing "dear compatriots" and stating that Sarkozy "decided not to run for office again at the end of 2012..."
Sarkozy reacted to the situation with a sense of humor, saying that his Facebook account had been hacked, "perhaps to remind me that no system is infallible."
The first round of the French election takes place on April 23, and the run-off is scheduled for May 7. Hollande will not seek a second term.