'They come and kill us' – France's Chinese community decries police brutality & racism
Published time: 30 Mar, 2017 11:06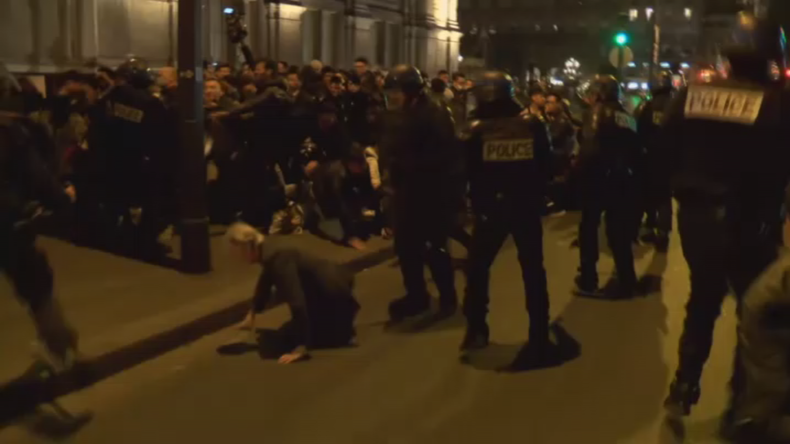 Heated protests raged for a third consecutive night after French police killed a Chinese man in Paris last weekend, with police brutality and racism prompting France's two million Chinese residents to question whether they've really found a second home.
Protesters gathering in Paris for the third night in a row last night in response to last weekend's killing of a Chinese man named Shaoyo Liu. The demonstrators seek to draw attention to the police brutality and insecurity they say France's Chinese community suffers from on a daily basis. Chinese citizens shared their thoughts on the issue with RT's correspondent at the scene, Charlotte Dubenskij.
"It's racism because, whereas Africans or Chinese they are dealing with, they come and kill us. It's unjust," a young Chinese woman told RT.
The recent killing has caused members of France's Chinese community to question whether they have really found a new home.
READ MORE: Tear gas, bottles fly as Paris police & anti-brutality protesters clash for 3rd night (VIDEOS)
"Where's the state? Where's the quality for the Asian people? We have to ask the state. We have not heard anything from the government. We feel that it's racism," a young Chinese man said. "We fear police coming to our home and killing us, like it's happened. We thought France was our second home, but did they accept us? We don't know. We're scared."
"We're here to commemorate our compatriot, and we do not want to die from police violence," a protester said, as quoted by CGTN.
There have been some harsh comments concerning the incident posted on social media. RT's Emily Siu took a sample of the opinions that Chinese people residing in France have shared online.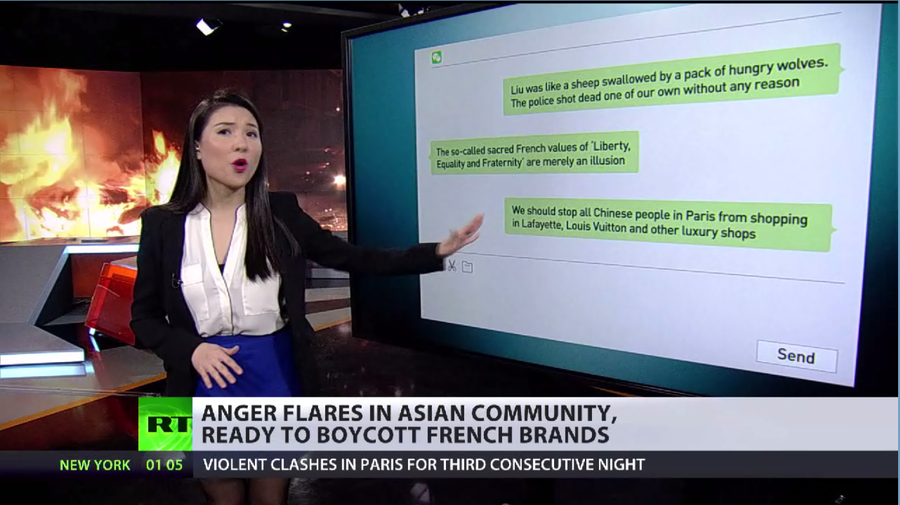 One user said Liu had been "like a sheep, swallowed by a pack of hungry wolves," since the police shooting was arguably unprovoked. Some went further, claiming that France's purported values – "Liberty, Equality and Fraternity" – were merely an "illusion," while others called for a boycott of French supermarkets and luxury brands.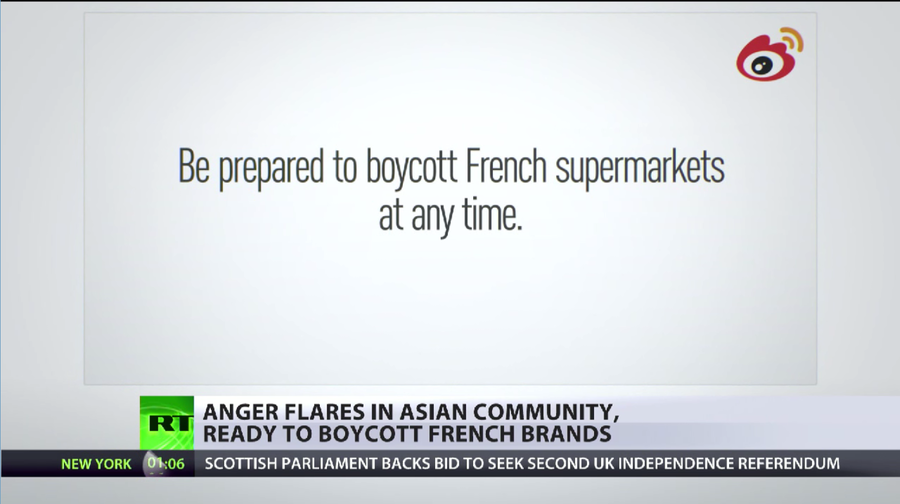 The shooting saw a similar response on Chinese social media networks, as users called France a "cold and arrogant" country, where the Chinese should not even bother going.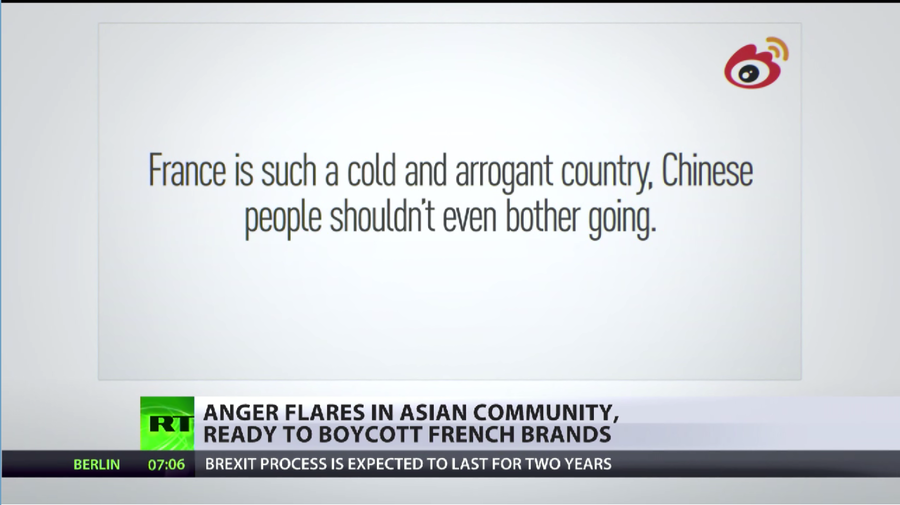 Some users implied that France has an institutionalized racism problem, while wondering if the "civilized France" existed only for "French people with pure French blood."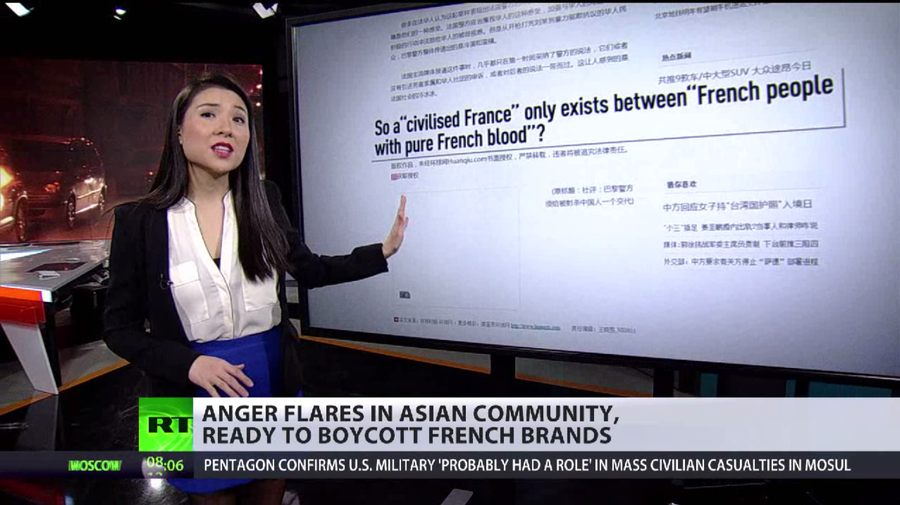 The incident has strained relations between China and France. The Chinese Foreign Ministry has promised to "pay close attention" to the incident, while urging French authorities to take "effective measures" to protect Chinese citizens residing in France. The French Foreign Ministry responded, saying that the security of all Chinese nationals is a "priority of the authorities."
It's unclear whether this will be reassuring enough to convince the demonstrators to cease their protests. France's Chinese community, which ranges from 700,000 to two million people according to various estimates, appears determined to "find out why a policeman comes into someone's home, breaks down the door, and pulls the trigger," Liu's nephew, Lulu Zheng, told RT's Ruptly news video agency earlier.
While the police claim 56-year-old Shaoyo Liu attacked the officers with a pair of scissors, the protesters maintain that the he was merely using them to cut the fish he was cooking. The three police officers involved in Sunday's shooting have been suspended for the duration of the investigation.
France has recently seen a surge in protests directed against alleged police brutality and institutionalized racism, including one that broke out in a Paris suburb early in February after a 22-year-old black man was reportedly raped with a baton by four police officers during a routine ID check.