Mexican man cleared of raping 17yo girl because he didn't 'satisfy his sexual appetite'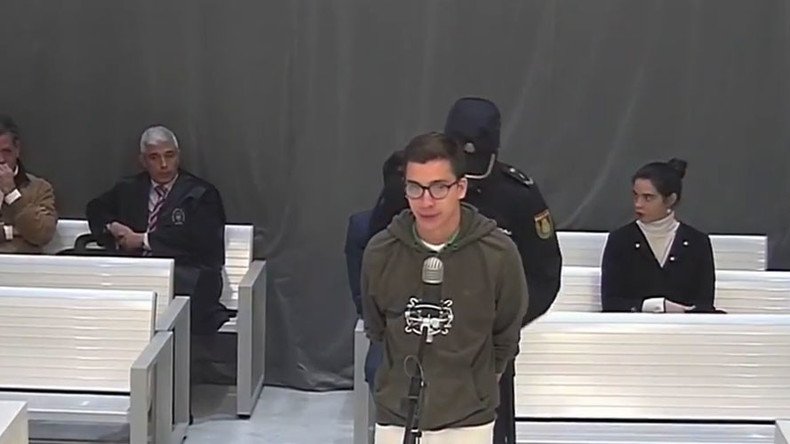 A Mexican man has been cleared of sexually assaulting an underage girl because he hadn't "satisfied his sexual appetite" and didn't intend "to copulate," a judge in Mexico has ruled.
Diego Gabriel Cruz Alonso was accused of raping a 17-year-old girl in the city of Boca del Rio in Veracruz state some 320 kilometers east of Mexico City in 2015.
Judge Anuar Gonzalez Hemadi ruled on Monday that the crime had not been proven and the man should be immediately released, arguing that, while the man had touched the victim and penetrated her with his fingers, he had acted without sexual intent and was, thus, not guilty of assault.
Cruz Alonso "touched the minor and, at the same time, did not intend to reach a vaginal, anal, or oral intercourse," the judge's statement said, as reported by Mexican media.
The judge added that "there is not a single element" that proves "the sexual intent of the accused… Also, the accused penetrated the girl [with his fingers], without performing another type of act."
He also noted that the "testimony from the minor doesn't provide any indications – that is, an insinuation, obscene word, proximity, situation – that the [defendant's] conduct was deliberate sexual abuse with erotic intentions or meant to satisfy sexual urges."
"Touching or incidental rubbing, be it in a public or private place, would not be considered a sexual act, if the element of intent to satisfy a sexual desire at the expense of the passive subject is absent."
"It is possible to consider that there was no purpose to copulate," the judge concluded.
The girl has ten days to challenge the judge's decision, and her attorney has confirmed that they will do so, while also possibly filing a complaint against the judge.
Cruz Alonso, now 21, was one of four men from wealthy and reportedly politically connected families in the Mexican state of Veracruz that were accused of sexually assaulting a female classmate from their elite private school during a New Year's party. Two of the other three members of the group, dubbed "Los Porkys" by social media, stand accused of penetrating the victim, who has been identified as Daphne Fernandez Torres.
Reacting to the verdict, Daphne's father, Javier Fernández, said that "with this legal protection anybody would be able to touch a young girl without penal consequences," as reported by local media.
"It's inconceivable. I am surprised and angry. Two years of fighting, battling, of rowing against the current so that they conclude this. They got away with the arrest order and now they are giving him legal protection two years later. This is a joke, it's absurd," he said.
In February of 2016, Daphne posted an emotional statement on her Facebook page hoping for a proper investigation of the incident.
"I'm not hiding. I'm not saying anything but the truth. I have nothing to repent," the girl wrote as reported by the Guardian.
"I've gone drinking. I've gone to parties. I've worn short skirts like many girls my age... and for that I'm going to be judged? For that I deserved what happened?" she wrote.
Later, in April of 2016, her father described the night of the attack for Univision broadcaster.
"She was leaving the club and then she was taken against her will," Fernandez told Ramos. "She was forced to get in a car with these four individuals. You already know their names... And they take her against her will, they drive away, and on their way to their destination they begin to sexually assault her. They later take her to a house, where they consummate the act," he said.
The Monday ruling has provoked outrage from human rights activists. Estefania Vela Barba of the Center for Teaching and Research in Economics said that "since there was no pleasure in the act, it was intended to cause humiliation."
"He sexually touched her, but because he didn't enjoy it, it's not sexual abuse?...They were touching her, they were bothering her, so for the judge, if the intention wasn't pleasure, it's not sexual assault," she added.
The judge's decision was also slammed on social media: "This is a serious violation of justice,""It can't be," "And no one will punish such judges?" said angry comments.
You can share this story on social media: