Boeing 737 with 140+ on board veers off runway, bursts into flames after landing in Peru (VIDEO)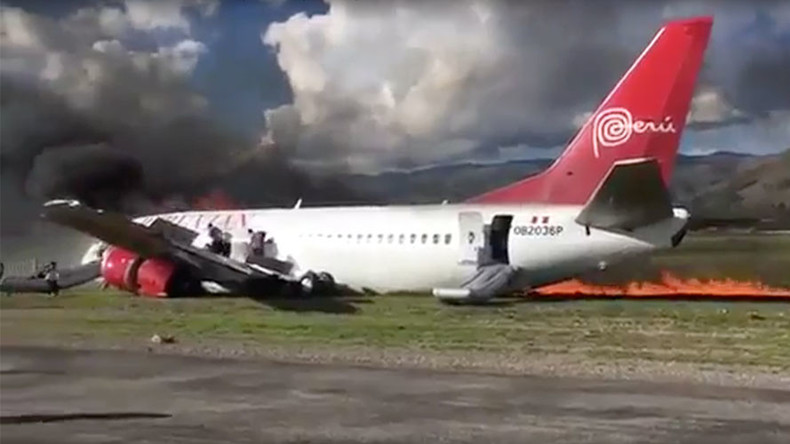 A Peruvian Airlines Boeing 737 jet with 141 passengers on board has veered off the runway, bursting into flames upon landing at the Francisco Carle Airport in Jauja, Peru.
Peruvian Airlines' Boeing 737-300, registration number OB-2036, was involved in an accident and caught fire upon landing at the Francisco Carle Airport around 4:30 pm local time, the company has confirmed.
"Today, at 16:30 pm, when we landed at Francisco Carlé de Jauja Airport, our Boeing 737-300 aircraft… turned on the right side, skidding off the runway. The high professionalism of our cabin crew prevented a major incident," the airline said.
Some 141 passengers were on board the flight, but none of them suffered any serious injuries from the accident, the airline said, noting that all passengers were safely evacuated from the plane.
At least 26 people, including a child, have been injured in the incident, Le Republica reported.
An investigation has been launched into the cause of the combustion. Video posted to social media shows a Peruvian Airlines passenger jet on fire.
One of the passengers, Jessica Núñez, told Canal N that the pilot apparently lost control of the aircraft after touchdown when the right wing broke off and the fire started.
Following the crash landing, the airport's emergency crews rushed to the scene to help evacuate the people. Firefighters from Company 48 also arrived from Jauja.
The Director of Civil Aeronautics, Juan Pavic, confirmed that everyone was brought out safely. He also indicated that the certificates of both the pilots and the airplane was in order, local media reports.