NATO troops head for Poland 'to deter Russian offensive actions' (VIDEO)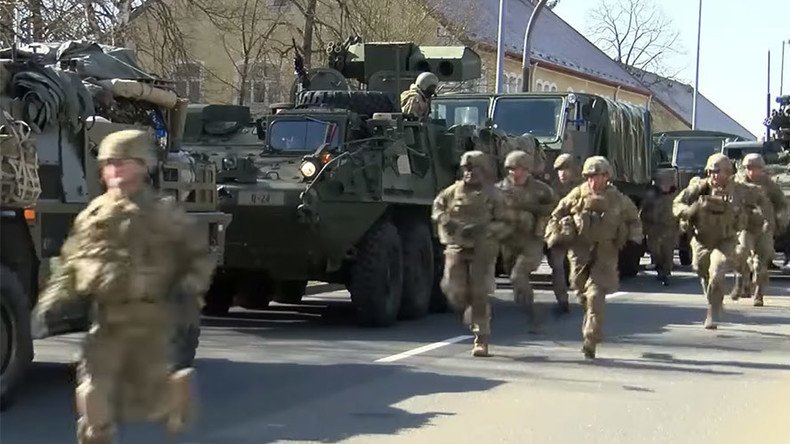 At least 1,350 American, British and Romanian soldiers have been sent to Poland from a base in Germany. US commanders said that the troops were ready "to deter Russian aggressive actions."
The US, British and Romanian soldiers left the Rose Barracks military base in Vilseck, western Germany, for Poland where they are expected take part in NATO's mission. The troops are "fully prepared to deter Russian offensive actions," US Colonel Patrick Ellis said at the departure ceremony on Saturday.
"As a result of Russia's aggressive actions and in light of the changing and evolving security environment, at the Warsaw summit in July 2016 NATO members agreed to strengthen our deterrence and defensive posture," US Major General Timothy P. McGuire said.
READ MORE: NATO logic: British troops in Estonia, good. Russian soldiers in Russia, bad
The NATO group is to be stationed in the town of Orzysz, 220 kilometers northeast of the capital, Warsaw, according to Reuters.
NATO troops in Estonia
Also on Saturday, NATO's heavy armored vehicles of the French armed forces were delivered to Estonia, according to a video published by the General Staff of the Estonian Defense Forces.
France's heavy armored vehicles include Leclerc tanks and VBCI infantry fighting vehicles, as well as dozens of VAB armored vehicles, a spokesman of the 1st Infantry Brigade said, according to the Kuulutaja newspaper.
The UK is to deliver Challenger 2, Titan and Trojan tanks to Estonia as well as self-propelled artillery mounts AS90, Warrior infantry fighting vehicles and reconnaissance drones, he added.
The battalion will be stationed in the military town of Tapa and will interact with the first infantry brigade of the Estonian Defense Forces.
The alignment of forces in Estonia is planned to finish in early April. By that time, Estonia is to host 800 soldiers from the UK and around 300 soldiers from France. The French group is to spend some eight months in the Baltic country. After that, Danish soldiers are expected to replace them.
NATO leaders agreed to deploy four multinational battalions to Poland as well as Estonia, Lithuania and Latvia on July 8 at the summit in Warsaw.
Russia has repeatedly criticized NATO's military buildup along its borders, seen as a threat to national security.
In February, Russian President Vladimir Putin blamed NATO for provoking a conflict with Moscow and using its "newly-declared official mission to deter Russia" as a pretext.
READ MORE: Putin: NATO keeps trying to draw Russia into confrontation, meddle in internal affairs
Speaking at the Munich Security Conference in February, Russian Foreign Minister Sergey Lavrov noted that "NATO's expansion has led to an unprecedented level of tension over the last 30 years in Europe."
Moscow has condemned the new US ground-based missile defense system in Eastern Europe and increased presence of NATO vessels in the Black Sea.
You can share this story on social media: