'We have a strong ally in Washington & a good friend in Beijing' – Australian PM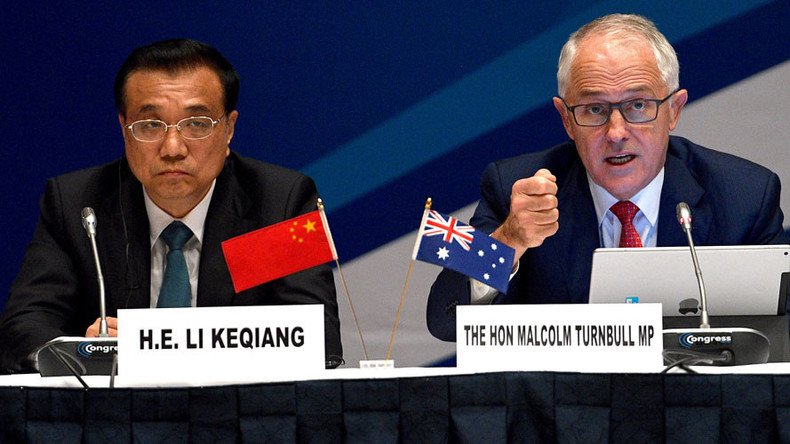 Australia should not have to choose between China and the US, Prime Minister Malcolm Turnbull said during an official visit by Chinese Premier Li Keqiang.
Speaking to reporters in Canberra on Friday, Turnbull said there was no need to pick between the two economic giants as Australia has good relations with both.
"We have a staunch, strong ally in Washington — a good friend in Washington — and we have a very good friend in Beijing," Turnbull said.
"The idea that Australia has to choose between China and the United States is not correct," he added.
Li Keqiang, who is currently on a five-day trip to Australia, has made it clear he's satisfied with Australia's approach.
"We respect your choices in your foreign policy," Li said at a speech Thursday. "We don't want to see taking sides as happened during the Cold War."
Li's visit to Australia is the most senior by a Chinese official since President Xi Jinping signed off on a major bilateral trade deal in 2014.
On Friday, Turnbull and Li completed a series of bilateral talks and agreements, including one in which China lifted restrictions on Australian beef imports. Previously, only 11 Australian suppliers had been allowed entry into the Chinese market.
"Australia is the only country in the world with this market access," Turnbull told reporters. "This new agreement will drive significant future growth."
Australia has been a consistent ally of the United States since World War I, but more recently has been careful not to provoke China, one of its biggest trading partners. In 2015, the two countries signed the China-Australia Free Trade Agreement (ChAFTA), and bilateral trade currently exceeds $107 billion.
Last year, Australia allowed a Chinese company, Landbridge, to secure a 99-year lease over the Port of Darwin, which has strategic access to the South China Sea. The move reportedly alarmed the US government, which has a marine training base nearby.
But so far, the Australian PM's relationship with US President Donald Trump may have been less productive. Trump reportedly described his phone call to Prime Minister Turnbull in February as the "worst so far," according to White House sources, after the two leaders allegedly argued about an agreement deal made by the Obama administration in which the United States would take in 1,250 asylum seekers being held in Papua New Guinea and Nauru. In a tweet, Trump referred to the plan to "take thousands of illegal immigrants" as a "dumb deal."
You can share this story on social media: