French elections: Hollande rejects claim he orchestrated media leaks to derail Fillon's campaign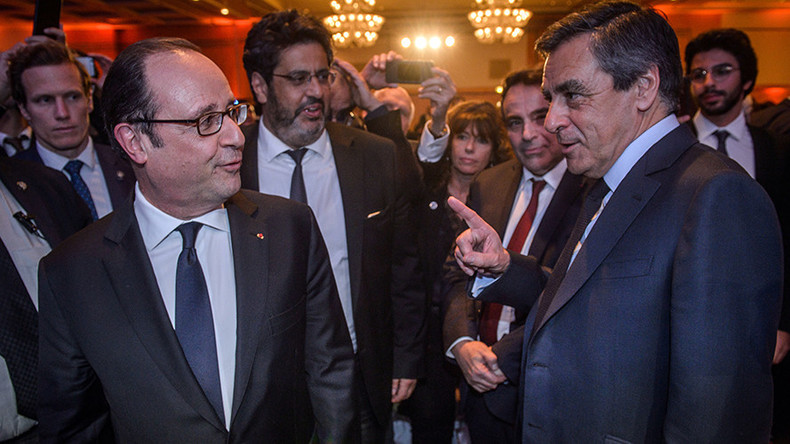 French President Francois Hollande has rebuked accusations by conservative presidential candidate Francois Fillon, who accused him of ordering leaks of compromising materials about Fillon's wife getting a "fictitious" job as a parliamentary aide.
Fillon has seen his ratings plummet since the revelation by satirical French magazine Le Canard Enchainé in January that his wife, Penelope Fillon, has received some 700,000 euros ($757,000) over 15 years allegedly working as his parliamentary assistant. The report came under heightened media scrutiny and allegations of a fictitious character were put forward, eventually prompting a formal investigation into purported fraud.
Earlier this week, reports emerged that the investigation has been broadened with Fillon now facing allegations of "aggravated fraud, forgery and use of forgeries," with the latest additions to the case relating to him reportedly falsifying documents to prove his wife's employment.
In an interview to France 2 television channel on Thursday, Fillon has appeared to put part of the blame for his electoral woes onto the French government and, personally, on Francois Hollande.
"You have newspapers today that receive documents 48 hours after they were seized in searches, for example in my office in the National Assembly," Fillon said, claiming that the leaks were needed to tarnish his image and kick him out of the presidential race.
He went on to allege that the French government is somehow implicated in the illegal sharing of sensitive investigative data.
"Who gives them these documents? The government," Fillon said, before elaborating who he views as the prime suspect.
"I will go much further. I blame the president of the republic [Hollande]," he said, claiming that by arranging the leaks the French leader seeks "to eliminate the candidate who represents an alternative."
READ MORE: 'Fillon has to take the role of victim to survive French presidential race'
With that, Les Republicans candidate, who once was leading in the polls but is now trailing behind both centrist frontrunner Emmanuel Macron and National Front's Marine Le Pen, has not disputed the content of the leaked report.
Hollande, for his part, strongly denied any involvement in the investigation process, saying in a statement late Thursday that he "condemns with the greatest firmness the false allegations of Fillon."
The presidential office insisted that Hollande "only heard of the charges through the press" and has always held in high regard the principle of judicial independence.
Apart from allegations into the misuse of public funds to pay his wife and two daughters, who were also employed as parliamentary assistants, Fillon has been mired in a few other scandals. This week, Fillon had to dismiss allegations that his consultancy company, 2F Council, was paid $50,000 for arranging a meeting between Russian President Vladimir Putin and Lebanese businessman Fouad Makhzoumi and Patrick Pouyanné from French energy company Total. Fillon's spokesman denounced the report by Le Canard Enchainé as "completely without foundation," while the Kremlin's spokesman Dmitry Peskov labeled it "another fake," stressing that "the role of any intermediaries is ruled out" in the Russian president's meetings.
Fillon is also battling accusations of receiving a suspiciously generous gift from a lawyer, who presented him with two tailor-made suits worth 13,000 euros ($14,000) in February. French newspaper Journal du Dimanche reported that over the last five years, Fillon has received custom-made suits from the said friend worth a total of 48,500 euros.
While acknowledging the fact, Fillon dubbed the corruption allegations over garments a "witch hunt," responding, "So what?" to the inquiry.