Jesus' tomb reopened in Jerusalem amid fears of 'catastrophic' collapse (PHOTOS)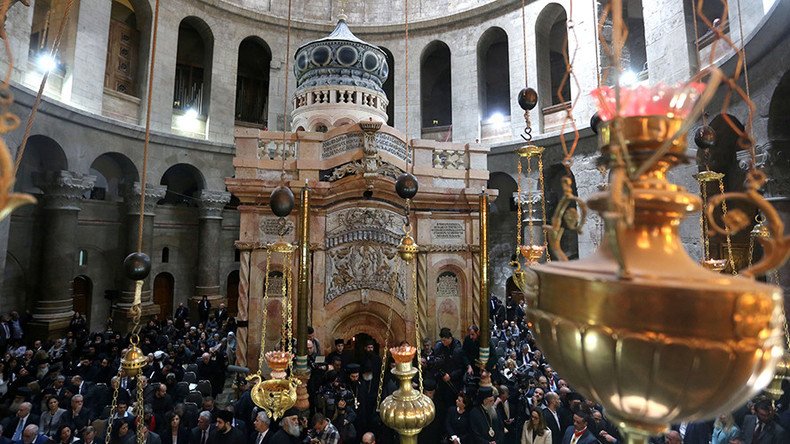 The believed site of Jesus's tomb has been reopened in Jerusalem on Wednesday, amid warnings by scientists that the holy site faces a collapse of potentially devastating proportions.
A team of workers and scientists from the National Technical University of Athens (NTUA) have spent the last nine months restoring the Edicule, the believed site of Jesus's tomb at the Church of the Holy Sepulchre in East Jerusalem. The Greek Orthodox, Armenian and Roman Catholic churches are joint custodians of the site. The three churches put together over $3 million for the project, while King Abdullah of Jordan also reportedly made a large personal contribution.
"For the first time in over two centuries, this sacred Edicule has been restored," Greek Orthodox Patriarch Theophilos III of Jerusalem said at the opening ceremony.
Other parts of the church were renovated in the 1960s and 1990s, but until 2016 the Edicule was ignored thanks to quarreling between the three Christian denominations. As part of the restoration, a ventilation system was installed and titanium bolts were inserted into the stone slabs covering Jesus's tomb by the same NTUA team that repaired the Acropolis and the Hagia Sophia.
But the scientists have warned that more restoration work is needed lest the shrine face "catastrophic" collapse.
"When it fails, the failure will not be a slow process, but catastrophic," Antonia Moropoulou, NTUA's chief scientific supervisor, told National Geographic.
Restoration work has revealed the foundations of the structure to be unstable and standing over a vast network of caves and tunnels, some of which are believed by archeologists to be remains of a 2,000-year-old limestone quarry that later served as the tombs for the Jewish elite. Other tunnels and empty spaces remain unexplained.
Not only that, but much of the Edicule's foundations lie on the rubble of other structures, and are also crumbling from decades of exposure to moisture.
To prevent collapse, the NTUA recommends another 10-month restoration project, estimated to cost 6 million euros, that will replace the unstable foundations and install a better drainage system for sewage and rainwater. The NTUA's recommendations have been passed onto the three Christian denominations who control the site, with whom the final decision rests.
The small cave within the Edicule has been considered by Christians to be the tomb of Jesus Christ since at least the 4th century AD, when Constantine, the first Christian emperor of Rome, burned down a Roman temple built on the site in the 2nd century AD. The Church housing the Edicule has been periodically destroyed and rebuilt by successive waves of invaders including the Sassanid Persians, Fatimids and crusaders.
The Church of the Holy Sepulchre is located in East Jerusalem, which has been occupied by Israel since 1967.
You can share this story on social media: