Prison guard admits asking youth detainees to perform oral sex (VIDEO)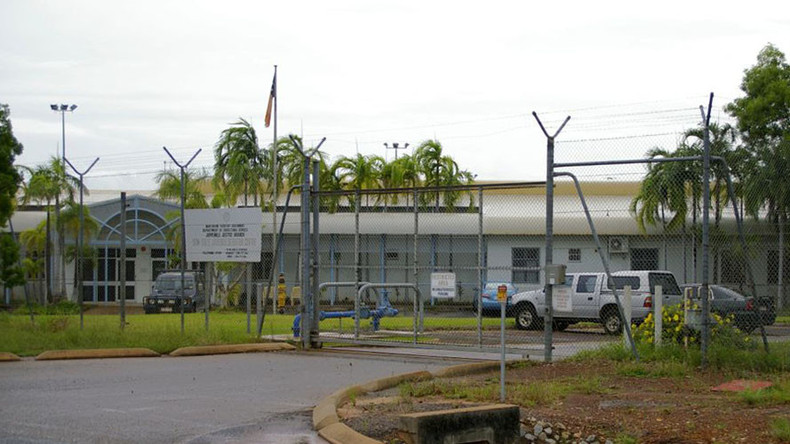 A former prison guard at a youth detention center in the Northern Territory, Australia, posted a video of himself to Snapchat daring a child detainee to eat feces and asking other inmates to perform oral sex on him.
A former youth justice officer at the Don Dale Youth Detention Center, Conan Zamolo, admitted to the acts before the Northern Territory Royal Commission into the Protection and Detention of Children on Monday, but dismissed it as "joking around." The evidence was given as part of an inquiry into widespread abuse at the center.
"It's just the kids goofing around. Something to pass the day," Zamolo told the inquiry's Darwin hearing. "I can see now it was inappropriate."
The allegations relate to 2014 when the footage was posted to social media app Snapchat, according to the Sydney Morning Herald. Zamolo told the commission that he shared the videos online as he found the behavior of the inmates amusing.
Another clip showed a boy looking uncomfortable while urinating in a toilet when the guard allegedly said "Oi! What are you doing, you little gay dog?"
Zamolo rejected allegations from three separate detainees that he recorded a child masturbating in the shower.
He was never disciplined for any of those incidents but was later fired for an unrelated matter.
Evidence was also given Monday by an inmate who said the guards bribed kids to fight each other for junk food.
The inquiry into the center is set to last two weeks and will hear from a number of politicians and guards, many of whom were involved in the tear gassing of six boys at the facility in August 2014.
The incident, along with an ABC investigation which revealed shocking footage of boys being assaulted and stripped at the facility, prompted a worldwide outcry, including a warning from the United Nations Human Rights Commission over possible children's rights violations.
#NTRC adjourned for the day. Hearings resume tomorrow 9:30am (ACST) with evidence from former #DonDale Youth Justice Officer, Ben Kelleher.

— NT Royal Comm (@NTRoyalComm) March 20, 2017
The inquiry will continue Tuesday with evidence from former guard Ben Kelleher, who it is alleged attempted to cover a camera and swore at one of the tear gassed inmates, Dylan Voller.
You can share this story on social media: