Palestinians bestow highest award on UN official who resigned in 'Israeli apartheid' report scandal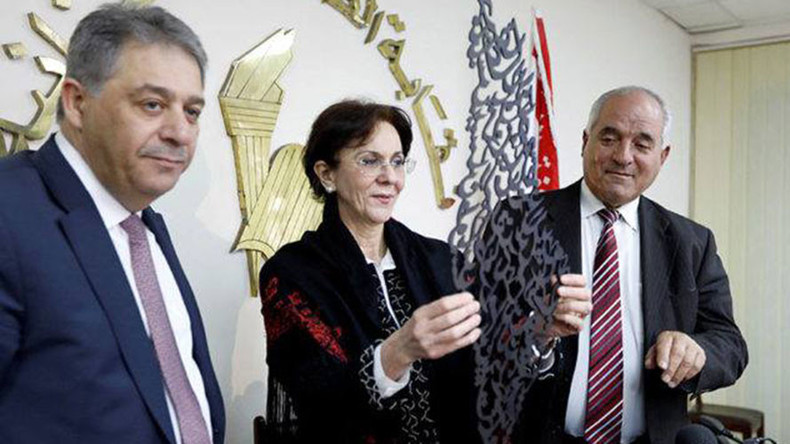 The UN official who resigned this week over the Israeli "apartheid regime" report has been awarded the highest Palestinian honor. Tel Aviv immediately slammed the move as an act of diplomatic war, saying its an "outrageous" decision to honor the former UN official for her "libel".
President Mahmoud Abbas had personally called Rima Khalaf, the former chief of Economic and Social Commission for Western Asia (ESCWA) to notify her about receiving the Palestine Medal of the Highest Honor in recognition of her "courage and support" for the Palestinian people, Wafa news reported.
The series of events began when UN Secretary-General Antonio Guterres asked ESCWA to take down the report, which was published on the ESCWA website Wednesday. Khalaf was forced to resign her post after she refused to comply with Guterres' request to take down the controversial study which accused Israel of being guilty of "policies and practices that constitute the crime of apartheid" against the Palestinian people.
On Friday, the UN affiliate removed the document from its website.
As she resigned Khalaf, told reporters that she still stands by the research, calling it, the "first of its kind" from a UN agency that sheds light on the alleged Israeli "war crimes."
Announcing the award for her uncompromised principles on Saturday, Abbas' office stressed that the Palestinian people "appreciate her humanitarian and national position."
Israeli officials and public figures welcomed Khalaf resignation, with the Israeli UN ambassador calling it long overdue. Supporters of the Palestinian cause viewed her resignation as a tragedy.
"We ... extend our deep appreciation to Dr. Rima Khalaf whose resignation from her post as UN ESCWA Executive Secretary should have never been accepted by UN Secretary-General Guterres," the executive committee of the Palestine Liberation Organization said, according to Wafa.
"We will continue to remain grateful to Dr. Khalaf for assuming a principled and courageous stand on behalf of the people of Palestine," the statement added.
Meanwhile, the Palestinian Authority condemned the erasing of the report from the UN agency's website.
"The Palestinian government denounced the removal of the report, which accused Israel of apartheid, emphasizing Israel's continuous imposition of the apartheid regime upon the Palestinians in the occupied territories," spokesperson Tareq Rishmawi said on Sunday.
Angered by the news of the award, Prime Minister Benjamin Netanyahu's spokesman, Ofir Gendelman, tweeted that honoring Khalaf for her "libelous and false" ESCWA report was an act of "diplomatic war on Israel."
"Pres Abbas's decision to give the highest honor to Rima Khalaf, the former UN official who issued a fake report about Israel, is outrageous," Gendelman said. "This is yet another proof that Abbas not only supports extremist elements but that he also wages a diplomatic war on Israel."