French politicians praise handling of Orly shooting as Le Pen attacks 'outdated' government
Published time: 19 Mar, 2017 00:06
Edited time: 19 Mar, 2017 09:33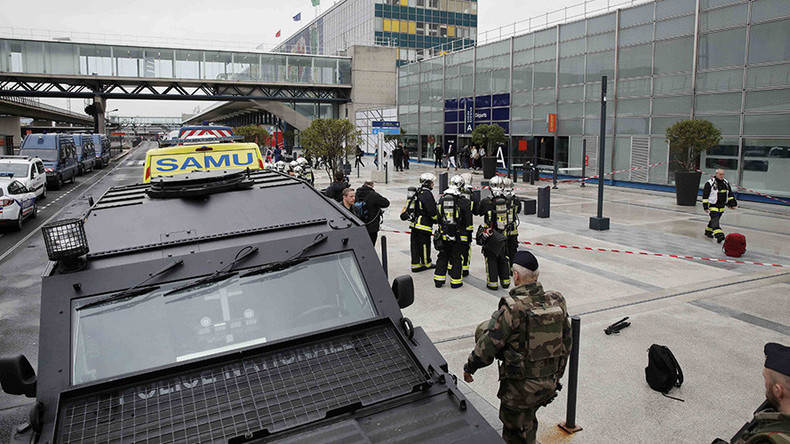 French politicians have been united in their praise for soldiers who foiled a potentially deadly attack in Orly airport. Far-right presidential candidate Marine Le Pen, however, engaged in a spat with the government over its "laxness" in allowing the incident to happen.
"I salute the courage and efficiency of police and military officers who faced the violence of a particularly dangerous individual," tweeted President Francois Hollande, after Ziyed Ben Belgacem, a 39-year-old French citizen with a string of criminal convictions, who assaulted a police officer and then attempted to grab the gun of a soldier inside the airport, was shot dead.
Hollande, who introduced a state of emergency in France, following the Islamist attacks in Paris in November 2015, said the country "must remain extremely vigilant" ahead of the presidential elections scheduled for next month.
The frontrunner in that election, center-left independent candidate Emmanuel Macron, commended the "professionalism" of the soldiers, and used the opportunity to announce that he would return some form of compulsory military service to the country, "to make our democracy more united and increase our collective resilience."
While National Front leader Marine Le Pen also paid tribute to those who confronted Ben Belgacem — who reportedly pointed the gun he grabbed at the soldiers who faced him — but was scathing on the center-left government.
"France is overwhelmed by violence, the consequence of the laxity of successive governments," tweeted the politician, who, according to the polls, is expected to win the first round in April's election, before losing to a more centrist candidate in the run-off.
"I want the state to take charge of ensuring safety for the French," Le Pen, who has repeatedly warned of the dangers of militant Islam, said at a campaign rally in Metz on Saturday evening. "The French will not be protected by people who refuse to face up to reality."
"The government is behind-the-times, bewildered, and paralyzed like a rabbit caught in headlights," said Le Pen.
READ MORE: Man shot dead after trying to steal weapon from soldier at Paris Orly Airport (PHOTOS, VIDEO)
Bernard Cazeneuve, the Socialist Interior Minister, told AFP that Le Pen's criticisms are "excessive," and that the incident calls on politicians to maintain "dignity."
The minister also accused the National Front of "spreading anxiety instead of voting for anti-terror laws proposed by the government to protect the French people."
'The new normal'?
Observers noted that while unsuccessful, the incident fits into the wider pattern of attacks, most notorious of them being the armed assault on the satirical magazine Charlie Hebdo in January 2015, and the deadly truck attack in Nice last year.
"Islamic terrorism is hitting France repeatedly, despite the government saying that these are just 'deranged' people," Luc Rivet, editor-in-chief of right-wing Belgian newspaper Le Peuple told RT. "France has something like 10,000 people it considers dangerous, and a few thousand of those are very dangerous and could attack any time, but it doesn't have the resources to follow them all."
Doug Weeks, a counter-terrorism expert, told RT, that while Ben Belgacem had been on a terrorist watchlist, his actions suggest that the attack was "spur-of-the-moment" and poorly planned, making it difficult to prevent. Weeks also complimented the work of French security services, but noted that foiling such attempts seems to have become "the new normal."