'That's how we act': Netanyahu justifies Syria air raid, vows forceful response to Hezbollah threat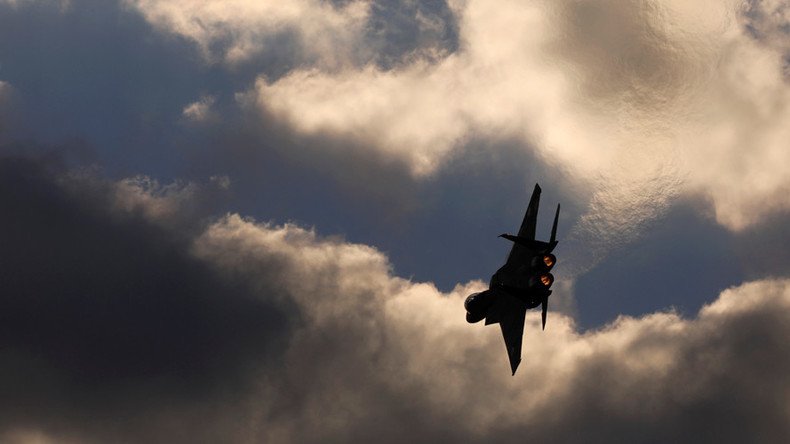 Israel will never hesitate to intervene to prevent potential arms transfers to Hezbollah, PM Benjamin Netanyahu stated, commenting on Israel's latest air raid in Syria in which intruding jets were targeted by air defense systems.
Four Israeli jets breached Syrian airspace and targeted military sites roughly around 3:00 am on Friday, prompting Damascus to activate its air defense systems. According to the Syrian military, one of the Israeli jets was shot down over the occupied Golan Heights while another was damaged.
The IDF has firmly denied that any of its jets were hit, and said Syrian anti-aircraft missiles either missed or had been intercepted by Israel's own air defenses. Fragments of the intercepted projectile were allegedly found across the border in a village in Jordan's Irbid governorate.
Addressing the issue on Friday, Israeli Prime Minister Benjamin Netanyahu justified the incursion explaining that IDF planes targeted a Hezbollah weapons convoy. Israel has always warned that it will intervene to tackle any potential threat from the Iranian-backed Hezbollah, whose fighters have been allied with Syrian President Bashar Assad.
"Our policy is very consistent," Netanyahu stated in a Hebrew language video released to the press, according to the Times of Israel. "When we identify attempts to transfer advanced weapons to Hezbollah — when we have the intel and the operational capability — we act to prevent it."
"That's how we've acted and how we will continue to act…and everyone needs to take this into account. Everyone," Netanyahu added.
Damascus, however, said that the Israeli strikes instead benefited the Islamic State (IS, formerly ISIS/ISIL) terrorist gangs and were conducted in a "desperate attempt to raise their deteriorating morale and divert attention away from the victories" of the Syrian Arab Army, Times of Israel reports.
The latest incident is not the first time that Israel has bombed targets in Syrian territory. However until the raid on Thursday night, which prompted a retaliatory response from Damascus, Israel has always stopped short of confirming specific air operations.
Russia, which is conducting military air operations in Syria at the request of Damascus, on Friday summoned the Israeli Ambassador to Moscow Gary Koren to discuss developments, the Russian Foreign Ministry said. No further information was offered.
Israel is officially neutral in Syria's civil war but has unilaterally reserved right to intervene to prevent potential shipments of advanced weaponry to the Hezbollah group based in Lebanon.
Tel Aviv last fought a war with Hezbollah in 2006. That conflict included rocket strikes inside Israel and an Israeli air and ground offensive in Lebanon. Israeli leaders have stated that since then, Hezbollah has built up and improved its range of rocket arsenal that can now strike deep inside Israel.
You can share this story on social media: